Master's programmes (2nd cycle)
All Master's programmes are presented here, grouped in areas of interest. At this level, we offer one-year and two-year Master's programmes as well as professional degree program.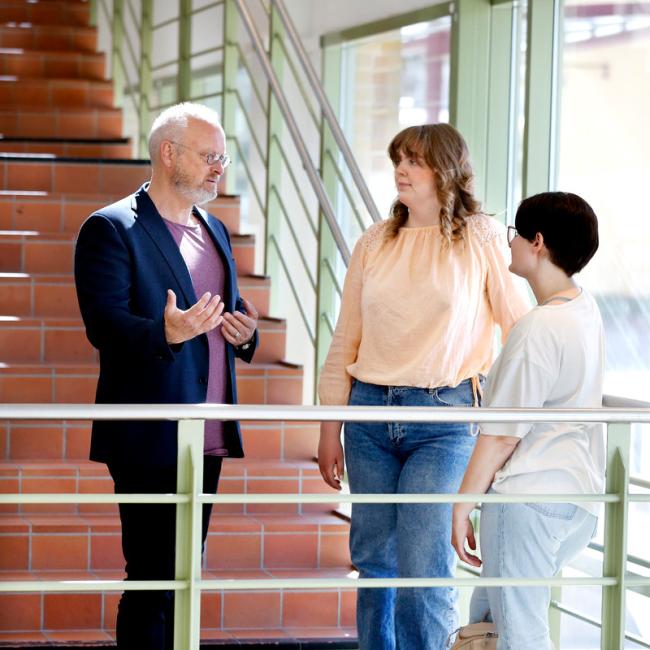 Students who have earned a Bachelor's or a professional degree of at least 180 ECTS cr. are eligible for admission to master's-level study. A Master's degree is required for doctorate programmes or for qualified employment.
Please note, It is not possible for us to confirm eligibility on forehand, for more information about the application process please visit: www.universityadmissions.se 
| | |
| --- | --- |
| Bridging program secondary school, 60 ECTS: Business administration | 60 ECTS credits |
| Bridging program secondary school, 60 ECTS: Physical education | 60 ECTS credits |
| Bridging program secondary school, 60 ECTS: Secondary Education: Bridging Programme - Civics | 60 ECTS credits |
| Bridging program secondary school, 60 ECTS: Secondary Education: Bridging Programme - English | 60 ECTS credits |
| Bridging program secondary school, 60 ECTS: Secondary Education: Bridging Programme - Geography | 60 ECTS credits |
| Bridging program secondary school, 60 ECTS: Secondary Education: Bridging Programme - History | 60 ECTS credits |
| Bridging program secondary school, 60 ECTS: Secondary Education: Bridging Programme - Religion | 60 ECTS credits |
| Bridging program secondary school, 60 ECTS: Secondary Education: Bridging Programme - Spanish | 60 ECTS credits |
| Bridging program secondary school, 60 ECTS: Secondary Education: Bridging Programme - Swedish | 60 ECTS credits |
| Master in Computer Science | 120 ECTS credits |
| Master of Science in Engineering, Degree Programme in Environmental and Energy Engineering | 120 ECTS credits |
| Master Progamme in Psychology with a Focus on the Future and Global Survival | 120 ECTS credits |
| Master Programme (one year) in Project Management | 60 ECTS credits |
| Master Programme in Accounting and Control: Master | 120 ECTS credits |
| Master Programme in Biology: Ecology and Conservation Biology | 120 ECTS credits |
| Master programme in critical social analysis | 120 ECTS credits |
| Master Programme in Economics: Master | 60 ECTS credits |
| Master programme in Educational Leadership and School Development | 120 ECTS credits |
| Master programme in Educational Work – Early Childhood Education and Care | 120 ECTS credits |
| Master programme in English: Linguistic specialisation | 120 ECTS credits |
| Master programme in English: Literary specialisation | 120 ECTS credits |
| Master programme in Geomedia Studies: Media, Mobility and Spatial Planning | 120 ECTS credits |
| Master Programme in Health Science: Focus Public Health Sciences | 120 ECTS credits |
| Master programme in History | 120 ECTS credits |
| Master Programme in Information Systems | 120 ECTS credits |
| Master Programme in Innovation and Service Development | 120 ECTS credits |
| Master Programme in Marketing: Master | 120 ECTS credits |
| Master Programme in Music | 120 ECTS credits |
| Master Programme in Service Management: Master | 120 ECTS credits |
| Master programme in social work | 120 ECTS credits |
| Master programme in Special Education | 120 ECTS credits |
| Master Programme in Sport Science | 120 ECTS credits |
| Master Programme in Subject-Specific Education | 120 ECTS credits |
| Master programme Political Science | 120 ECTS credits |
| Master´s Degree Programme (one year) in Tax Law | 60 ECTS credits |
| Nursing Specialisation: Intensive Care | 60 ECTS credits |
| Nursing Specialisation: Public Health Care | 75 ECTS credits |
| One Year Master in Working Life Science | 60 ECTS credits |
| Programme in Special Needs Training: Intellectual disability | 90 ECTS credits |
| Risk Management in society | 120 ECTS credits |
| Secondary Education: Bridging Programme after third-cycle qualification | 90 ECTS credits |
| Secondary Education:Bridging Programme | 90 ECTS credits |
| Specialist Nursing -Theatre Care | 60 ECTS credits |
| Study Programme for Specialist Nursing in Prehospital Emergency Care | 60 ECTS credits |