Exchange studies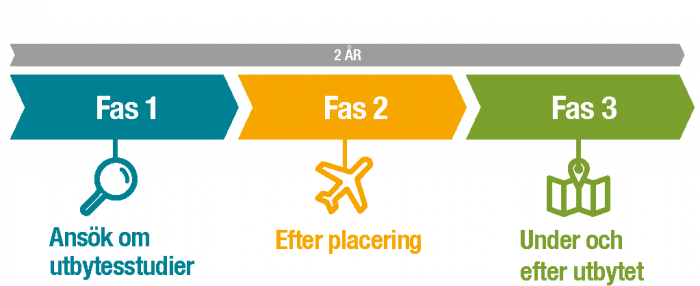 As a student at Karlstad University you can study part of your programme abroad through one of our exchange agreements with more than 250 universities across 35 countries. The phases involved in exchange studies are set out below.
Phase 1: Apply for exchange studies
1. Gather information
Attend an information meeting

The International Office arranges several information meetings in the months running up to the application deadline. Attend one of the meetings and receive useful information about exchange studies and the application process. For the time and place:
Find out when studying abroad is most suitable

Discuss with your programme leader or study and career counsellor which programme semester is most suitable for study abroad, and if there are specific requirements for your courses (level, subject area, language, etc.).
Decide where you want to study

Use our search tool to see your options as a student of Karlstad University. It is your responsibility to thoroughly investigate the places you are interested in before you apply. Look at course offers, language of instruction, prerequisites, semester dates etc.
2. Apply for an exchange study place
Apply online for exchange studies via the International Office. The last dates for application are 15 November and 15 March one year in advance. Please take the time to follow all of the instructions carefully. Information about the application is available here:
3. Notification of placement
Approximately four weeks after submitting your application, you will receive notification of your host university. The placement is final and no changes are allowed. An invitation to an information meeting regarding the next steps in the process.

Phase 2: After accepting placement
1. Nomination
When you have accepted your placement (ticked yes), Karlstad University will nominate you to your host university. Nomination means that the host university receives information that you have been selected for exchange studies. The nomination period is different for each university. You will be informed via e-mail when your nomination is confirmed and when it is time to apply.  
2. Preparation and application to your host university
Once your nomination is confirmed, it is time to start preparing your application to your host university and for your semester abroad (visa, language test, course of study). The application process varies for different universities, so follow the instructions carefully and apply well in advance. Remember that university systems can differ a great deal from the Swedish system. More details regarding what you need to prepare are available here:
Phase 3: During and after the exchange studies
1. During the exchange
Enjoy! -Now that you are finally in situ for your exchange term, it's time to enjoy all the experiences you can! Meet new people, and discover new cultures and study worlds.
Be a good ambassador - Exchange students are expected to promote Karlstad University by participating in information events and fairs at the host university. You can contribute to maintaining rewarding exchange partnerships and to attracting students to come to Karlstad.

2. After the exchange period
Transfer of credits - You have to apply for transfer of credits if you want your studies abroad to be included in your degree programme.
 
Inspire others