Bachelor Programme in Music
180 ECTS credits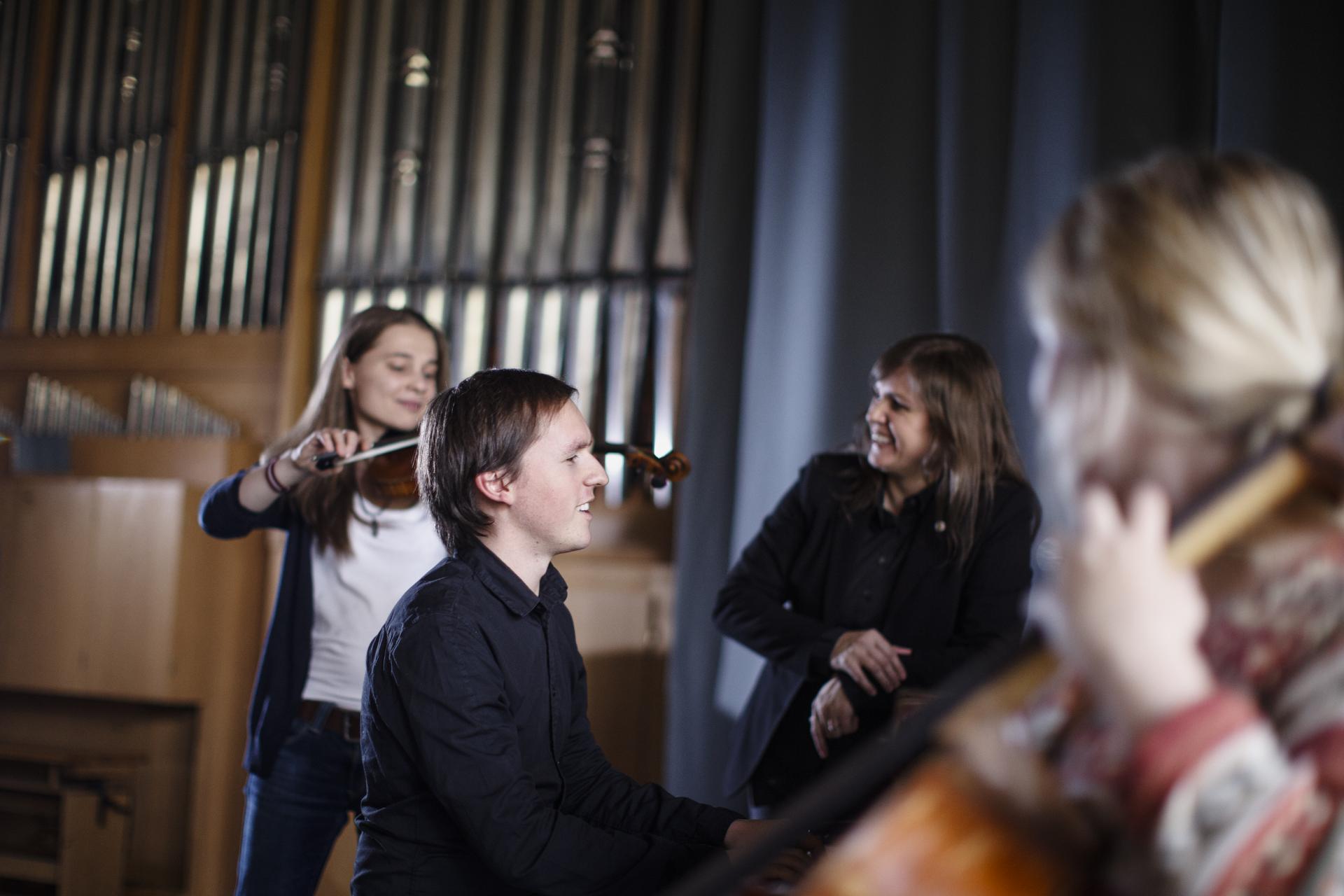 Study programme
The Fine Arts/Music programme at Karlstad University is an artistic education designed for students who want to develop their technical and artistic musical skills to a very high level. With studies on main instrument, ensemble and musical knowledge the student acquires a solid foundation for a professional life as a musician in various musical constellations. The programme comprises 180 credits and leads to a Degree of Bachelor of Fine Arts with a Major in Music. The studies are at the Ingesund school of music in Arvika. At the school we have symphony orchestras, string bands, choirs, symphonic brass band, jazz orchestra, and a variety of small ensembles.


Education level:
Basic level
Prerequisites
General admission requirements and satisfactory entrance test in accordance with the decision of the Swedish Council for Higher Education, UHR, C2020/117.
More about field-specific eligibility
Application and tuition fees
Total fee: 900,000 SEK (approximately €100,000)
Per semester / First payment: 150,000 SEK (approximately €16,667)
Application fee: 900 SEK (approximately €100)
If you are an exchange student, or if you have citizenship in a European Union (EU) or European Economic Area (EEA) country, or Switzerland, you are NOT required to pay application or tuition fees.
While studying
Education
The programme builds on three areas of study involving main instrument, ensemble and musical knowledge. In addition, studies include an optional course and a mandatory independent degree project. There is an emphasis on students' instrument playing skills, rehearsing and interpretation of solo and chamber music. There is also an emphasis on reflections on their own artistic process and development. Students also practice performing to an audience. Furthermore, there are studies of music theory and ear-training, music history in the Western music traditions, digital tools, functional piano training and conditions of the music sector.


Form of Instruction
Instruction is in the form of individual (one-to-one) tuition on the instrument, lessons in groups, joint lessons, master classes and special music projects. Mandatory components are indicated in the course syllabi.


Examination
Examination formats is based on practical music performance, oral presentations and individual hand-in
assignments, presented and discussed in tutorials, seminars and master classes.


Professional Contact
During the studies, there are many possibilities to co-operate with cultural activities in the established music market.




Course of study
*Full-time study always equals 30 ECTS credits per semester (20 weeks).
Elective course: Students are free to choose among certain alternative courses, often depending on their choice of specialisation.
Optional course: Students are free to choose any course offered at Karlstad University or at other universities. Courses listed are examples of recommended or frequently chosen courses for a specific programme.
Läsårs- och programvärderingar
Start semester Autumn 2016
Start semester Autumn 2017
Start semester Autumn 2018
Start semester Autumn 2019
Start semester Autumn 2020
Future prospects
Employment Market
The music cultural life in Sweden, as well as in other countries, needs professional artists who can work in orchestras, ensembles, as soloists as well with other music skills and cultural activities in general.
Degree
The programme concludes with a Degree of Bachelor of Fine Arts in Music.
Further Studies
Upon completion of the programme, you can go on to further studies at Master's level, such as a Master's programme of Fine Arts (60 or 120 credits) in Music.
Karlstad University currently offers the following program that might be of interest:
Master Programme in Music