Centre for Teaching and Learning
Centre for Teaching and Learning (UPE) supports and stimulates the development of university teachers' teaching competence. The unit provides active and professional support for quality development of education in the first, second and third cycle at Karlstad University. The unit is responsible for qualifying university pedagogical education and can offer qualified support for the development of educational design through flexible teaching and examination forms. The design of the unit's training and support is based on research on higher education, local and national governance documents and guidelines, as well as discussions and exchanges of experience both at Karlstad University and within national and international networks.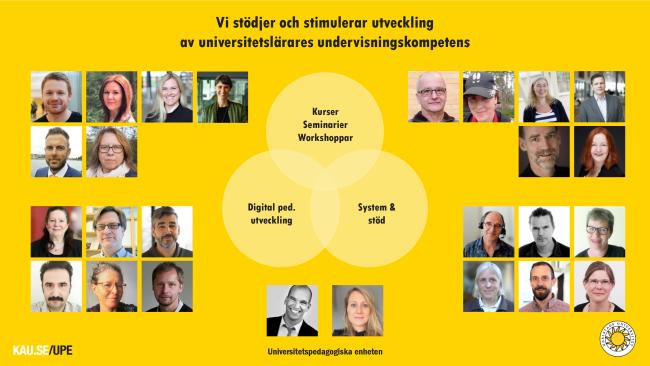 Top left: Håke Karlsson, Carl Johan Lövenhamn, Mikael Svanberg, Tomas Jansson, Patrik Holm & Anders Forsell. Middle from left: Håkan Liljegren, Markus Schneider, Roger Renström, Ann Vestfält, Lotta Svenneling & Max Hansson. Bottom left: Cecilia Hellekant, Karin Thörne, Lena Nässla, Carina Vikström & Jörg Pareigis. Missing: Gunilla Carlsson Kvarnlöf and Niklas Jakobsson

News
New model for teachers' competence development
UPE's "course catalogue" has been changed and so has our working strategy regarding competence development for university teachers. First and foremost, we want to make it easier for teachers and their supervisors to adapt the teacher's skills development to individual needs, and to the teacher's current work situation. We will also now distinguish between assessing teachers' competence ("demonstrated teaching skills") and the actual courses. Compliance with the requirements will be assessed separately, based on that the teacher presents a pedagogical teaching portfolio.
More about the new model for teachers' competence development (link)
We are UPE:
Jörg Pareigis
Head of unit
Markus Schneider
Project manager
Carl Johan Lövenhamn
Learning designer
Lotta Svenneling
Learning designer
Cecilia Hellekant
Learning designer
Carina Vikström
Education administrator
With assignment for the unit:
Tomas Jansson
Senior lecturer
Gunilla Carlsson Kvarnlöf
Senior lecturer, recognised university teacher
Roger Renström
Senior lecturer, docent
Mikael Svanberg
Senior lecturer, recognised university teacher
Karin Thörne
PhD
Ann Vestfält
Lecturer

Anders Forsell
Senior lecture
Håkan Liljegren
Lecturer
Lena Nässla
Lecturer
Håke Karlsson
Lecturer
Max Hansson
Lecturer
Patrik Holm
Senior lecture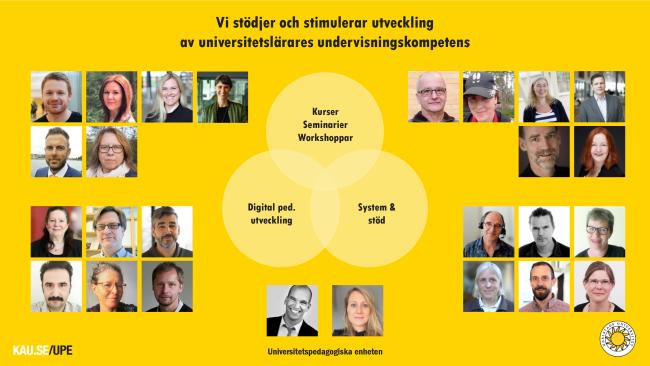 Top left: Håke Karlsson, Carl Johan Lövenhamn, Mikael Svanberg, Tomas Jansson, Patrik Holm & Anders Forsell. Middle from left: Håkan Liljegren, Markus Schneider, Roger Renström, Ann Vestfält, Lotta Svenneling & Max Hansson. Bottom left: Cecilia Hellekant, Karin Thörne, Lena Nässla, Carina Vikström & Jörg Pareigis. Missing: Gunilla Carlsson Kvarnlöf and Niklas Jakobsson