2. Library card & Borrowing times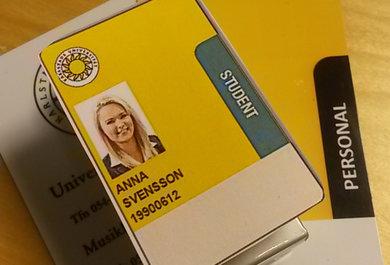 Library card / Kau card for students
As a new student you don't have to get a separate library card, you use the KAU card as a "library card". The PIN you choose for your KAU card is the same that you use to borrow or reserve books.
If you need to borrow before you have obtained your KAU card, you can send an email to biblioteket@kau.se. You can get an account by showing a valid ID, and also your t-number if you are an exchange student. You will be asked to choose a 4-digit PIN code and remember to select the same PIN code when applying for the KAU card.
The KAU card + PIN code entitles you to:
borrow books
make a loan request 
Borrowing books
You borrow your books in the self-check machines on floor 2 or 3. There are two different ways of borrowing:
Use your KAU card + PIN code
Type your Swedish ID-number (10 digits) + PIN code
Borrowing periods
All books are guaranteed a borrowing period of 14 days. If nobody reserves the book, the book will automatically be renewed. When the maximum number of renewals has been made, the book must be returned.
Fines for overdue books
Reserved books - SEK 20 per book and day.
Course reference books borrowed and not returned before 23:59 the same day: SEK 250 per day
E-mail notices are sent:
If a book is recalled
A reserved book is available.
A book is overdue.