Borrowing periods, returns and recalls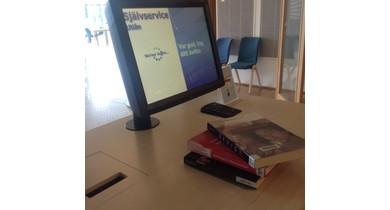 Borrowing periods
All books are guaranteed a borrowing period of 14 days. If nobody reserves the book, the book will automatically be renewed up to 15 times (students and the general public) or 33 times (staff).
BOOKS / DVDs / JOURNALS     
BORROWING PERIOD
Books that are NOT reserved
14 days x 15 / 14 days x 33
Books that are reserved AT the time of borrowing
14 days
Books that are reserved DURING the borrowing period
No more automatic renewal will be done, the return date in My Loans is valid
DVDs
7 days
Course reference books
The book must be returned no later than kl. 23:59 the same day.
(Fine = SEK 250)
Journals
1 day
Return date and automatic renewals
When you borrow a book, you get a 14 day loan period. The loan period is then automatically renewed up to 15 or 33 times, respectively, if no one else has reserved the book.
Log in to "My loans" with your Kau ID in order to see the current return date.
If someone makes a reservation on the book, no more renewals will be made and you must return the book. You will also receive an e-mail from the library about this.
When 15 automatic re-loans have been made, you will receive an e-mail informing you that it will not be possible to re-borrow the book more times and that you must return the book. You can not renew loans yourself.
Messages are sent to the e-mail registered in "My loans". If an e-mail address is missing, a letter will be sent to the population registration address.
 
Junk e-mail
E-mail notices are occasionally caught in spam-filters and flagged as junk e-mail. Please set your spam-filter to allow messages from biblioteket@kau.se. Failure to receive notices will not negate fines.
Returning books
Books are returned using the self-return machine in the Reading room on floor 2. When the library is closed books may be left in the return box outside the main library entrance.
Returning books to public libraries in Värmland
Books may also be returned to public libraries in Värmland. Please note that a book is only recorded as returned once it has reached Karlstad University Library, and not when it is left at a public library. Return books well in time to avoid fines.
Returning books by post
You may also post books to the library, but they are only recorded as returned when they arrive at Karlstad University Library.
Adress:
Karlstad University Library
651 87 Karlstad
Recalls and fines
Overdue fines are charged on reserved books, course reference books and DVDs.
If books have not been returned after the end of the borrowing period, two reminders are sent out by email. When the book is recalled for the third time an invoice for SEK 700 is sent. If the book is then returned, the invoice is written off, but an administrative fee of SEK 200 is charged. You may also buy a new copy of a lost or damaged book.
Unpaid invoices are sent to a collection agency.