Library card & borrowing regulations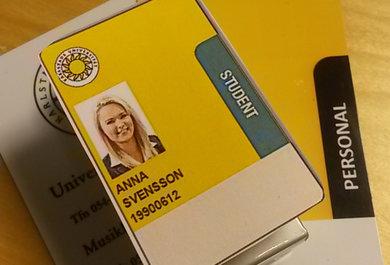 Library card / KAU card for students
NEW STUDENTS
As a new student you don't have to get a separate library card. When you obtained your KAU card, you can use that as a "library card". The PIN you choose for your KAU card is the same that you must use to borrow or reserve books. Contact information is automatically collected from "My Kau"
If you need to borrow before you have obtained your KAU card, you can turn to the Information desks on floor 2. You can get an account by showing a valid ID, and also your t-number if you are an exchange student. You will be asked to choose a 4-digit PIN code and remember to select the same PIN code as you choose when applying for the KAU card.
PINs containing common trivial patterns will not be accepted. For example:
A character that is consecutively repeated three or more times (0000 or 1222)
A set of up to four characters is that is consecutively repeated two or more times (2525)
Four digits in ascending or descending order (1234 or 4321)
Library Card / KAU card for employees at Karlstad University
For employees the KAU card will work as a library card if you register with the library. For borrowing or reserving books please use the PIN code you chose for your KAU card.
If you already have a library card you do not need to register again. When you obtain a KAU card it will automatically work together with the KAU card PIN.
Library card – general public
The library's collections are also open to members of the public who neither study nor work at Karlstad University. Valid photo ID has to be shown to obtain a library card.
Borrowing regulations
A library card is individual and may not be used by someone else. You are personally responsible for your library card and the loans registered on the card.
When you borrow a book at the university library, you automatically agree to follow the loan rules.