MY KAU
My Kau is a personal digital service for you as a student at Karlstad University. In My Kau, you perform administrative tasks related to your studies.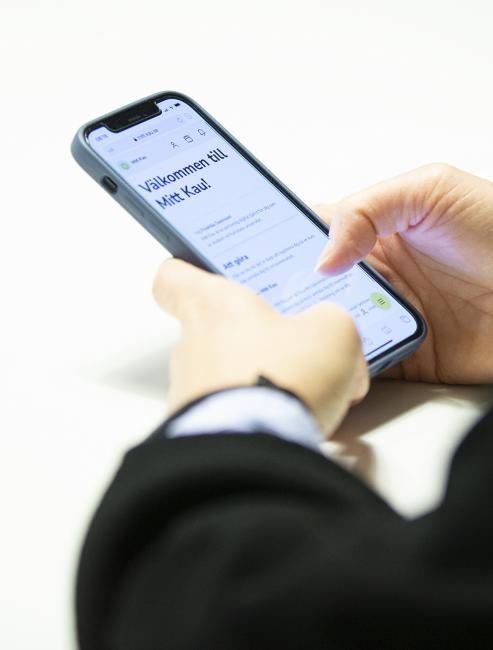 When you are admitted to Karlstad University, you must register and receive the Program and Course introductory information. You need to keep track of your schedule and when it is time for the exam you must register.
HOW TO LOG IN TO MY KAU?
Log in using your KauID
CHECK YOUR EMAIL ADDRESS
In order not to miss important information from Karlstad University, it is important that we have updated contact information from you as a student. You may update your contact information in My Kau.
HOW MY KAU WORKS
TO DO
On the start page, you get a "to-do card" when:
Registration is open for a course you are accepted to. The name of the course indicates which date you must register at the latest to keep your place. You can easily register in Mitt Kau.
It is possible to register for an exam within a course you are registered for. Click on the card to complete the registration or register for the exam.
MY EDUCATION
In My Kau you get a comprehensive overview of the courses you are accepted to. You can see current courses and programs. You will find completed education in Ladok for students.
Programs and courses have their own education card.
In the card you will find:
Link to the introductory information - to get the best start possible at Karlstad University it is important that you read it
Important dates for course registration
Contact details
Link to syllabus, reading list and schedule.
When you are registered on the course you will also find a link to the Canvas learning platform
When the registration period opens, you can easily register in My Kau.
SCHEDULE
You have access to your whole overall schedule in My Kau. The courses that you are admitted to will be displayed in the schedule in My Kau.
EXAMS
In My Kau you can register for your exams. You may be book location for distance courses and if you have targeted study support you may book it as well.
You may also see booked exams six months in advance, find your digital exams, download your scanned exams and see your exams results.
LINKS
In My Kau, you can also find useful links to the Canvas, Ladok for students, the Library and important information for students.