Master programmes - your next step at Karlstad Business School
Societal challenges require in-depth knowledge and enhanced competences. By building upon your bachelor degree with a further year or two of advanced level studies, you will increase your chances of finding an exciting profession and of pursuing an international career. Karlstad Business School offers several programmes at the advanced level, both one- and two-year masters with many programmes offered in English.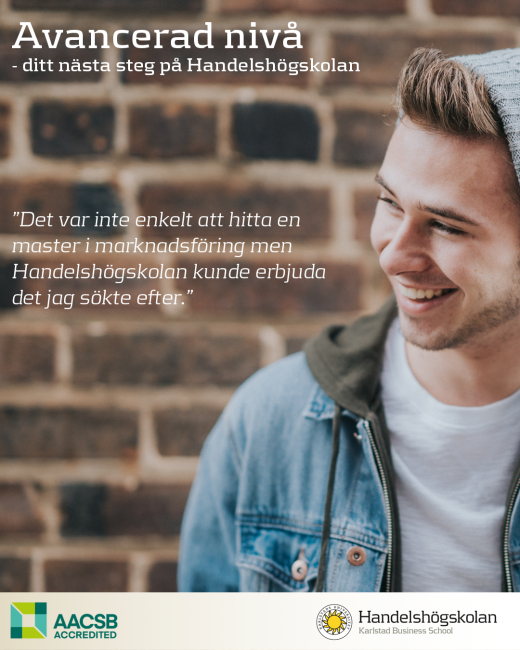 Business Administration
Within business administration, we offer five master programmes, for an in-depth educational profile for further studies in:
Service management
As a student in service management, you deepen your knowledge and competence to lead, produce and deliver services - which play an increasingly important role in companies, public organizations and society. You can work on developing service innovations and service-based business models that benefit consumers and contribute to sustainable development, and gain an understanding of the role of services in the development of society, markets and organizations. With a master's degree in service management, you will have an excellent starting point for a career in the management and organization of service development and service production.
Accounting and control
As a student in accounting and control, your skills are deepened to master qualified tasks in auditing, accounting and financial management within private and public organizations. Examples of future professional roles could be working as an accountant, financial manager or controller with knowledge of the latest developments in the field as well as competences that provide good conditions for your future career in both the private and public sectors.
Marketing
As a student in marketing, you deepen your knowledge, competences and prerequisites for a career in the field of marketing in private and public organizations. With an understanding of marketing's role in organizations' work to meet various needs and challenges in society and markets, the education is an excellent starting point for those who want to work with market strategic questions, market analyses, sales and market communication. Examples of future professional roles could be working as marketing manager, sales manager or marketing consultant.
Innovation and service development
Project management
In project management, we offer a one-year master programme of further study for those who want to build upon their bachelor degree. The programme is multidisciplinary and includes theoretical formations and elements mainly from the subjects of business administration, psychology and occupational science. The programme is given on campus (autumn) or online via distance learning (spring). As a student in project management, you develop your knowledge, skills and ability to collaborate with people across industries and professional roles. In many organizations today, the project work form is the normal way of working, in others, it is a method used more and more often to develop business.
With an understanding of leadership in temporary groupings, and a combination of project management methodologies and how the project work itself is conducted on an individual and group level, the programme is an excellent starting point for those who want to work with leading, organizing and completing projects in a modern society. There are many different types of projects, such as developing products, marketing offers, streamlining operations, delivering large customer orders, reorganizing or organizing events.
Economics
Within economics, you can read a master's program in English/Swedish (depending on the participants) during one year of further studies for those interested in public economics. As a student in economics, you have the opportunity to deepen your knowledge and competence in applied econometrics, behavioral economics, international macroeconomics and economic evaluation methods. There are also courses to choose from such as:
Portfolio Analysis
Company valuation
Risk management in financial companies
Economic growth
With a master level degree in economics, doors open to interesting professions in both the public and private sector. A master's degree gives you opportunities to apply for positions that place high demand on financial analysis skills.These are mainly professions in public administration, but also private companies, such as banks.
Informatics
Within informatics/information systems, you can study a master programme in English with two years of further studies where there is also the option of finishing with a master's degree after one year. The need for competent personnel is increasing, within the IT industry, other industries and public administration. As a student in informatics/information systems, you will deepen knowledge of how people develop and use e-services to support various activities in companies and society. Central to the programme is the combination of theoretical reflections, problem solving and design work.
Your skills and abilities are deepened in courses within AR/VR (augmented / virtual reality), interaction design, business systems, or in other areas through courses connected to research projects. We have research projects in AI (artificial intelligence), BI (business intelligence), e-Health, personal integrity, crisis management support and process orientation. A master's degree in informatics gives you opportunities for a qualified profession and prepares you well for a future in the IT industry, as an employee, self-employed or if you choose to go on to postgraduate research studies. A master's degree is often necessary for interesting development assignments abroad.
Law
Within the subject of law, you can read the master's programme in tax law, which is aimed at graduates with a bachelor's degree in economics, law or jurisprudence. The programme is one year and is given either on campus or online, via distance learning. As a student in tax law, you will deepen your knowledge of Swedish corporate taxation, international tax law and tax process. Great emphasis is also placed on methodological training and your ability to write and discuss tax law issues and problems, in order to analyse independently tax law problems. These are also treated in relation to international law, such as EU law and tax treaties, as the increased internationalization of tax law has created new challenges that affect both legislation and law enforcement.
With a master's degree in tax law, you can work in the private sector as a tax lawyer/tax consultant or in the public sector as an administrator/tax lawyer at the Swedish Tax Agency. The role of tax consultant or lawyer with a tax focus means, among other things, that you give advice or assist clients in tax matters and tax processes in a professional manner. Many companies today also have their own tax lawyers. As an administrator at the Swedish Tax Agency, you must be able to participate in qualified tax investigations. The training also provides opportunities to work as a judge in administrative law or as a business lawyer/consultant.
Working Life Science
In working life science, you can study a master's program for one year of further studies. A unique programme offered mainly via distance learning with a number of in person meetings and conducted by three universities in collaboration: Karlstad University, the University of Gothenburg and the University of Borås.
Globalisation, social transformation and new social challenges are changing the conditions in our working life. Work in industry and the public sector is organized in new ways, which also affects employment conditions and the relations between the parties in the labour market. As a student in working life science, you develop in-depth knowledge of current development concepts nationally and internationally, as well as your ability to apply a critical analytical approach to the changes. The programme covers both how work affects people, and how work affects how businesses are organized and changed.
The master's programme in working life science develops your scientific ability to investigate and handle issues related to working life, competence issues, leadership and organizational changes in private and public organizations, as well as changes in the labour market. A social sustainability perspective is central to the programme. A master's degree in working life science prepares you for qualified professions in personnel and working life issues, recruitment, leadership and organizational development, but also for qualified investigation and evaluation work within companies, authorities and organizations or if you choose to go on to postgraduate research studies.
Lecturing by experienced researchers and access to unique networks
Your lecturers are experienced researchers who lecture in areas where they themselves conduct their research. Other lecturers have years of experience working with private and public organizations in areas of your programmes. You will thereby have the opportunity to build a unique network with researchers, professionals and other students during your studies. As a student, you can also have the opportunity to participate in international research projects, which means contact with overseas universities and the international business community within the relevant industry for your programme. A master's degree entitles you to apply for postgraduate research that can lead to a doctorate and an academic career.
Good contacts with working life and a programme, which takes responsibility
During your programme, you are given regular opportunities to make contact with working life through professionals who participate in courses and various events at Karlstad Business School. The degree work is often carried out in collaboration with companies and organisations. A degree at master level makes you more competitive in the job market and supplies you with competencies to work with more complex tasks. Sustainable development and an international perspective are integrated into our programmes together with competencies to:
Apply theory to practice
Communicate
Take responsibility and lead
Critically reflect
Work effectively in teams
AACSB - an international accreditation
The Business School at Karlstad University is AACSB-accredited, which means that you as a student will receive an education that meets international quality standards and is well equipped to face the challenges of the future. In many international companies, a master's degree is a requirement to be able to reach more senior positions.