Bachelor Programme in Music (180 ECTS credits)
After three years of music studies in the beautiful inspiring environment of Ingesund School of Music outside Arvika, you will have a solid foundation for a professional life as a musician.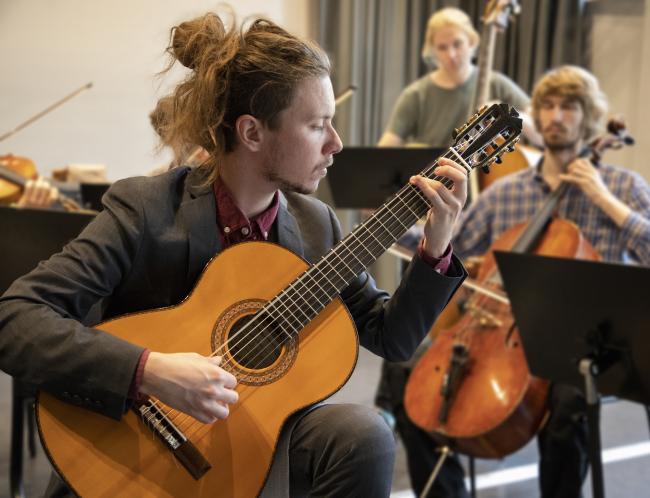 The Bachelor Programme in Music is designed for students who want to become technically accomplished, versatile and creative musicians. The programme gives you many opportunities for practising and performing as a soloist. In addition, there are many possibilities to play with others, both in smaller ensembles, string orchestras, wind symphonies, choirs and big bands. You also have access to practice and teaching rooms most of the day. Our teachers are highly educated experts who are passionate about their teaching.
Main instrument
We offer teaching in the following main instruments:
violin
viola
cello
double bass
piano
voice
guitar
flute
clarinet
Artistic specialisation
The programme is designed to meet the three local aims for all Karlstad University's music programmes, by developing:
Excellent technical and artistic musical skills
Cooperation within and between different cultural contexts
Creativity, innovation and entrepreneurship
At Ingesund School of Music, you have the opportunity to develop your technique and ability to express yourself musically to a high level, both as a soloist and in ensembles. We also focus on reflections on your own artistic process and development during the programme, and you will start to practise performing in public early on.
Scope and contents of the programme
The three-year programme (180 ECTS credits) comprises three large blocks, each including a number of different courses:
Main instrument I-VI (97.5 ECTS credits)
Ensemble I-V (37.5 ECTS credits)
Musical knowledge I-III (22.5 ECTS credits)
The courses in these blocks are evenly spread out over the six semesters of the programme. The six main instrument courses include, for example, studying and performing repertoires from different eras, technical training and practice techniques. The five ensemble courses concentrate on playing chamber and orchestra music. As part of these five courses, you have the opportunity to perform at Ingesund's internal and external concerts, as well as at other public concerts. 
The three courses in musical knowledge include music history, ear training and music theory, as well as an introduction to notation and sequencing software and the conditions of the music industry. The programme further includes a degree project and an optional course that either gives you the opportunity to specialise further in an area of your choice or to broaden your knowledge ahead of your career.
The programme is built on individual instrument classes, group classes and joint classes during which students play to each other, as well as project weeks, artistic seminars and master classes. Examination is mainly based on performances, but there are also individual written assignments and oral reflections and discussion as part of seminars.
Bachelor's degree in the fine, applied and performing arts
The Bachelor Programme in Music comprises 180 ECTS credits. Upon completion of the programme you will receive a bachelor degree in fine arts with a major in music. You have to complete a degree project of 15 ECTS credits in music to be awarded the degree.
Higher education diploma in the fine, applied and performing arts
If you prefer, you can complete the first two years of the programme to obtain a higher education diploma in music (120 ECTS credits). You have to complete a diploma project of 7.5 ECTS credits in music to be awarded the diploma.
Admission to the Bachelor Programme in Music
All applicants to the bachelor Programme in Music must fulfil specific entrance requirements by demonstrating their technique and performance skills on the main instrument. All applicants further have to demonstrate their knowledge of music theory in a written test.
The main instrument entrance test includes two rounds. The first round relates to the specific entrance requirements, and you have to pass this test to be invited to the second round. In the second round, another main instrument test is used to rank applicants in the different instruments.
You further need to pass the music theory test to fulfil specific entrance requirements for admission. This test is done at the music school to which you applied as your first choice.
An invitation to the entrance test is sent out to the email address indicated in your application, within two weeks of the application deadline.
Test days for the Bachelor Programme in Music are on 17-21 February 2020 for flute, clarinet, vocal, guitar, violin, viola, violoncell, doublebass and piano.