About Music 60 (60 ECTS credits)
Music 60 ECTS credits is a one-year course preparing for music studies in higher education with a focus on instrumental skills  and ensemble and orchestra membership.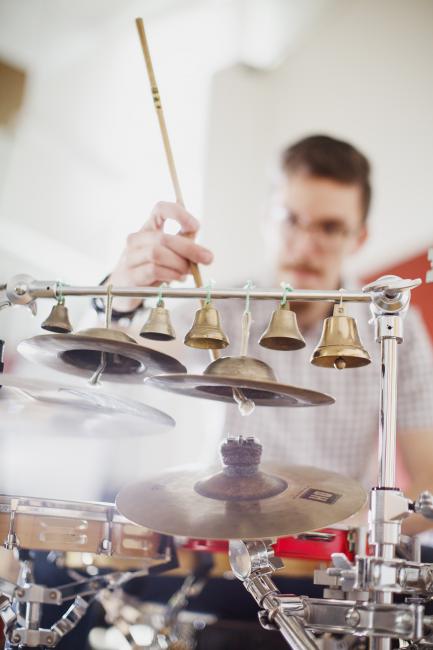 Main instrument instruction comprises individual tutoring as well as joint classes with all students in an instrument group at the Ingesund School of Music. Individually adapted basic course in  music theory is mandatory as is choir practice and membership  in small and big ensembles.
Course modules
Main and secondary instrument

Chamber music

Orchestra/ ensemble play
Choir

Music theory

Other options
Accompanying instrument (piano/guitar)
Italian
Improvisation
Playing by ear

Structural listening

Vocal training in group
Music with the computer
Arranging
Composition
Ensemble conducting
History of Music
Main instrument audition
Which main instrument entrance test you choose to take will depend on the genre you feel most at home in.
Ensemble leading/conducting
Composition
You are only required to take one entrance test on your main instrument even if you are also applying to the Ingesund Folk High School College Music Programme and/or the Music Teacher Programme.
Music theory entrance test
Music theory consists of three parts: music theory, music and notation, and  harmony.
In music theory you are expected to demonstrate knowledge of  common concepts and ways of designating and notating  e.g. octave positions, intervals, chords, keys, times, and note values and pauses.
In music and notation you are expected to  notate melodies played, the rhythms played and name the chords played with the help of chord symbols and notes.
The harmony part is available in two versions, one in the song style , and one in a jazz/pop style. You are only required to choose one of the variations.
The test in music theory has primarily a diagnostic function and consists of:
Trial test in harmony
Trial test in music theory
Only one music theory test is required for the Ingesund Folk High School College of Music as for Music 60 ECTS credits .