Geomedia Speaker Series
Geomedia Speaker Series is a series of lectures and workshops focusing on the field of geomedia studies, i.e., the intersection of media and communication studies and human geography. Internationally leading researchers from different disciplines are invited to give an open lecture and participate in a thematic workshop with members of the Geomedia centre, and other interested parties. Our events are organized on campus as well as online.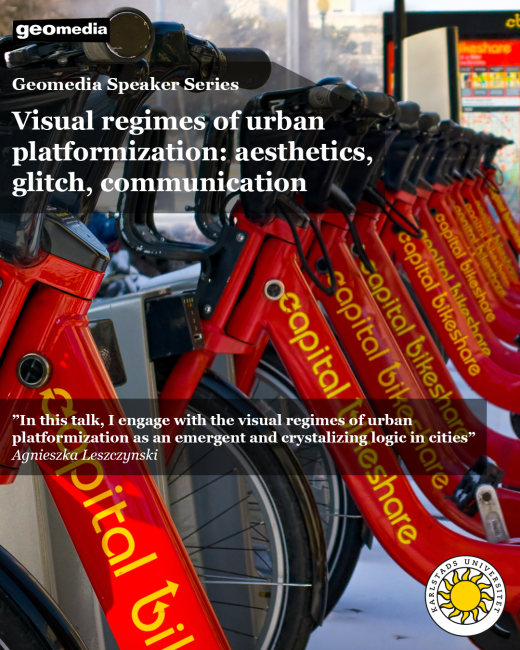 Agnieszka Leszczynski
- Visual regimes of urban platformization: aesthetics, glitch, communication
Friday, 7 October, 14:00-15:30
Live on Campus or on Zoom (link will be sent out)
Abstract
In this talk, I engage with the visual regimes of urban platformization as an emergent and crystalizing logic in cities. Drawing on a range of empirical instances from North American cities, I situate and trace urban platform visualities in three registers: aesthetics, the glitch, and communication. Docked bikesharing infrastructure in Vancouver comprises a serialized aesthetics increasingly co-implicated with the aesthetics of gentrification at the microgeographic, or sub-neighbourhood, scale of the city. What would appear to be a garish, performatively 'ugly' home intended to disrupt the homogeneity of an Instagrammable aesthetic nevertheless function to cue the production and circulation of value. And two additional instances from Canadian cities – signs indicating reserved parking for mobility platform vehicles, and posters calling for gig workers to unionize – materially communicate and are contextualized against the conditions of platform urbanism along axes of changing spatial and social relations in the city. I discuss how this visual-material perspective nuances our understandings of the co-generative dynamics of platforms and cities by foregrounding how platforms materially make and claim space, communicate, and mediate socio-spatial relations in urban environments.   
Bio
Agnieszka Leszczynski is Associate Professor in the Department of Geography & Environment at Western University in Canada. She is one of the editors of Environment & Planning F: Philosophy, Theory, Models, Methods and Practice, and a former Co-Editor of Big Data & Society. Her current research focuses on the visual aesthetics of urban platformization in a comparative global context, and also examines how small cities are figuring as sites of digital experimentation.
Date: 7 October
09:30-11:30
Presentations from the Geomedia Research Group (closed session)
Venue: Minerva (12C608)
Lunchbreak
14:00-15:30
Open Lecture by Agnieszka Leszczynski 
Venue: Erlandersalen (11D227)
Questions about the open lecture can be sent to the Geomedia Centre Coordinator
Also, please contact Cornelia Brantner for Zoom-link