Geomedia Speaker Series
Geomedia Speaker Series is a series of lectures and workshops focusing on the field of geomedia studies, i.e., the intersection of media and communication studies and human geography. Internationally leading researchers from different disciplines are invited to give an open lecture and participate in a thematic workshop with members of the Geomedia centre, and other interested parties. Our events are organized on campus as well as online.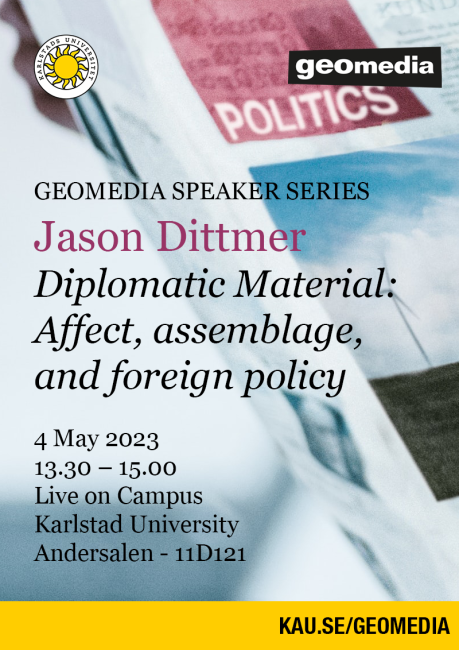 Jason Dittmer
Diplomatic Material: Affect, assemblage, and foreign policy
4 May 2023
13:30 – 15:00
Live on Campus at Karlstad University
Andersalen (11D121)
Abstract
In this talk, which is based on the book of the same name, I offer a counterintuitive reading of foreign policy by tracing the complex role of mediating materials in shaping the decisions and actions of diplomats and policymakers. Bringing new materialism to bear on international relations, I focus not on what the state does in the world, but on how the world operates within the state through the circulation of humans and nonhuman objects. From examining how paper storage needs impacted the design of the British Foreign Office Building to discussing the 1953 NATO decision to adopt the .30 calibre bullet as the standard rifle ammunition, I highlight the contingency of human agency within international relations. In this vision of diplomacy, which eschews stasis, structural forces, and historical trends in favour of dynamism and becoming, the international community is less a coming-together of states than it is a convergence of media, things, people, and practices. In this way, I locate power in the unfolding of processes on the micro level, thereby reconceptualizing our understandings of diplomacy and international relations.
Bio
Dr Jason Dittmer is Professor of Political Geography and Head of the Department of Geography at University College London. His research has emphasised the importance of media in shaping political subjectivities, from superhero comics to military museum exhibitions to diplomatic papers. His current work, however, is on Gibraltar and the role of materiality in its evolution from a military fortress into an emergent polity.
Dr Jason Dittmer is the author of: 
He is also the editor (or co-editor) of: