Report series
UPE will continuously publish reports in the field of teaching and learning where teachers and staff share experiences from development work regarding teaching and examination.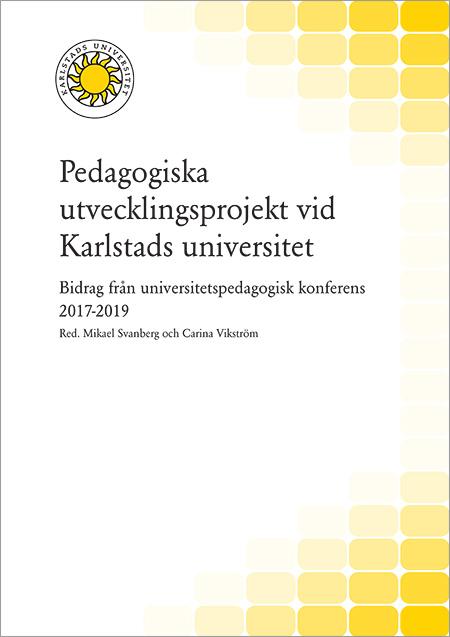 Rapportseriens namn är Utveckling av undervisning och examination i högre utbildning. Rapporterna kommer att användas som kurslitteratur inom enhetens verksamhet, så att innehållet i kurser och cirklar kan bygga vidare på tidigare vunna erfarenheter. Rapporterna kan också utgöra en grund för forskning om undervisning och handledning i högre utbildning. Publikationerna publiceras som fulltext i DiVA.
Publikationer av utvecklings- eller forskningsprojekt i den universitetsgemensamma rapportserien kan användas för pedagogisk meritering vid ansökan om att bli befordrad och meriterad eller excellent inom undervisning och examination vid Karlstads universitet.
Du hittar länkar till samtliga rapporter i högerspalten.
Our publications
2020: 1 Course Design in Canvas
Here, five development projects are presented from the unit's conference on teaching and examination 2019.
2019: 1 Pedagogical development projects at Karlstad University.
Here, five development projects in teaching and examination are presented. The contributions have been presented at the university pedagogical conference between the years 2017-2019.
2018: 2 Work-based education in vocational education
Here, four development projects are presented concerning the work-based part of the education within the nursing program and the teacher educations.
2018: 1 Student-active forms of learning and examination
Here, six different development projects are presented that have been contributions to the University Pedagogical Conference 2017. The focus is on student-centered teaching.
2017: 02 To change teaching
Here, development projects are presented on how e.g. digital support affects the role of the teacher and the feeling of closeness and social presence in distance education.
2017: 01 Student-centered learning, assessment and examination
Five different development projects are presented here, four of which were presented at the annual development conference 2016.
If you want to publish a text or have suggestions for themes in future issues, contact UPE: upe@kau.se.