Marcus Berg, professor of Physics
Marcus Berg is originally from Umeå, where he also majored in Physics before enrolling as a PhD student at the University of Texas at Austin, which at the time was the biggest university in the U.S. in terms of student numbers, and, not least, had two Nobel Prize laureates in the physics department. He obtained his Doctor's degree in 2001 and then held research positions in California, Rome, and Berlin before moving to the Oskar-Klein Centre in Stockholm in 2007.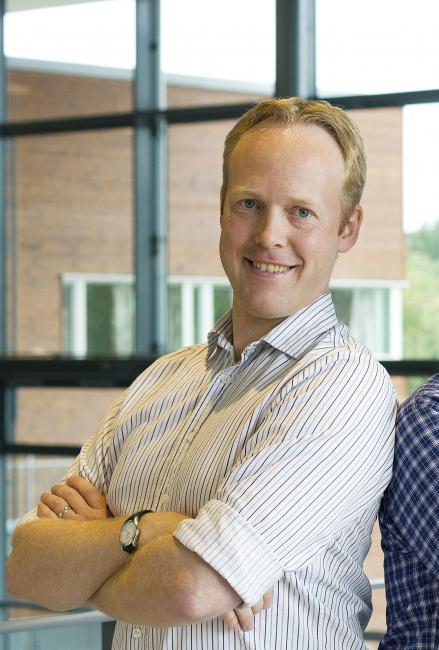 Photo credit
Andreas Reichenberg
"I wouldn't think it was worth the trouble if I wasn't convinced that this type of research will lead to major and unpredictable benefits to the world."
Marcus Berg was recruited to Karlstad University in 2011. He had never visited Karlstad before but says that he enjoys Värmland immensely.
Marcus Berg's research is mostly geared towards so called fundamental physics, that is, the branch of physics studying the laws of nature and why they are what they are. To him, the fundamental questions concern the smallest building blocks of nature – particle physics, and the whole of the universe – cosmology. But there are also important unresolved questions in materials science related to particle physics.
"I pursue curiosity-driven basic research, which right now has no direct applications. But I wouldn't think it was worth the trouble if I wasn't convinced that this type of research will lead to major and unpredictable benefits to the world. The history of science is full of such examples. I think that anyone who feels uninformed about these things should google Bardeen's Nobel Prize in Physics in 1956 – how quantum physics led to the present technological development."
Marcus Berg's research is not applied, but it is, in fact, "used".  About every third day the year round someone in the world uses results that he and his partners have produced. As a more or less universal morning routine, theoretical physicists look at a web archive where new research results are presented and where they can communicate and respond if needed, or perhaps thank someone. Marcus Berg's research field has been instrumental in developing a system that supports researchers' need of quick and efficient cooperation. The fact is that the whole system we call "the web" was created at the European particle physics laboratory CERN.
"What I choose to focus on in my research actually depends on the experimental development at CERN, and new space telescopes launched. Right now, I'm fascinated by the new and rapidly expanding link between particle physics methods and the string theory hypothesis. I just received an invitation to a conference on this at the Simons Centre in New York, which I'm looking forward to."
Marcus Berg lives with his wife Alicia from Texas and their son Karl-Erik, who has just started school. In his spare time Marcus Berg trains karate at the club Karlstad Shotokan. He likes listening to hard rock and used to play the guitar in different bands.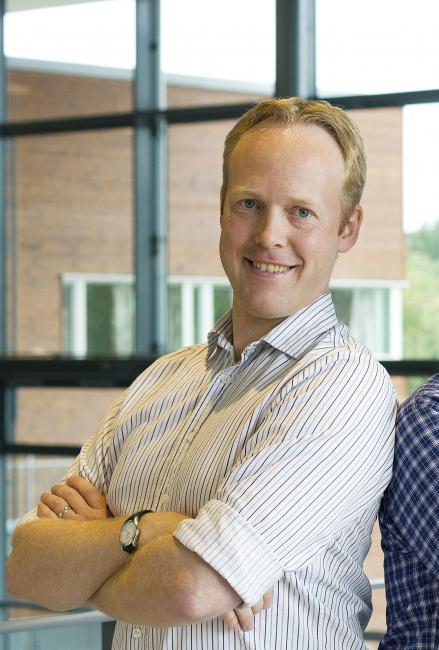 Photo credit
Andreas Reichenberg
"I wouldn't think it was worth the trouble if I wasn't convinced that this type of research will lead to major and unpredictable benefits to the world."