English
Doctoral programme in English at Karlstad University.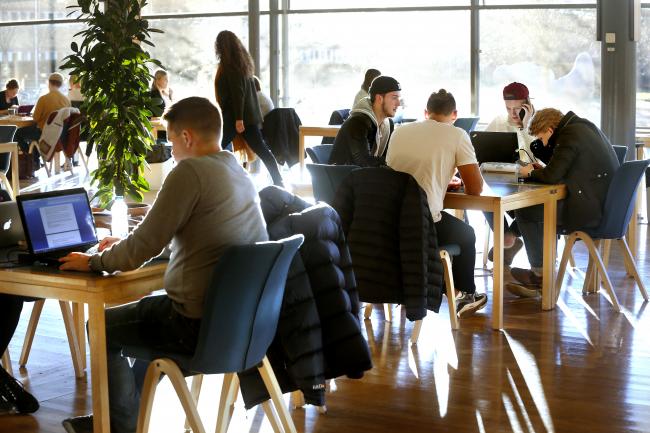 PhD studies in English may be pursued with a specialisation in linguistics or literature, and admitted PhD candidates have the opportunity to design their dissertation projects within either of these subject areas. Thirteen PhD degrees have been awarded since 1999, when English was approved as a doctoral discipline.
The PhD programme in English is largely designed individually. Four years of full-time study are required for the doctoral degree, divided between 60 ECTS credits of coursework and 180 ECTS credits for the dissertation. Courses include optional university-wide PhD courses, subject-specific courses depending on specialisation (see our list of courses), as well as courses related to the dissertation project. It is also possible to obtain a licentiate degree after two years of doctoral studies.
A person fulfilling both the general and specific admission requirements is eligible for admission to the PhD programme. The general admission requirement is a Master's degree with a minimum of 240 ECTS credits total of which at least 60 ECTS credits from second cycle courses (MA courses), or equivalent (Higher Education Ordinance, Ch. 6). Specific admission requirements for doctoral studies in English are a minimum of 30 ECTS credits from second cycle courses (MA courses) in English, including a degree project of 15 ECTS credits. It is possible to choose a different specialisation at PhD level than for the Master's level degree project, but it is generally recommended that the Master-level degree project be in the same field as the doctoral programme applied to (linguistics and literature, respectively), as applicants will then have a better chance of demonstrating their qualifications for a specific type of research.
In order to be admitted to the PhD programme, one has to have financing for the entire study period. Usually admission to the doctoral programme takes place after a vacancy has been advertised, so candidates are not admitted continuously. Approved candidates with external financing like grants and scholarships may also be admitted. PhD courses are offered as needed and can only be taken by candidates already admitted to the programme.
For further information contact one of the professors in English: Andrea Schalley (linguistics) or Maria Holmgren Troy (literature).