Laboratory facilities
Our laboratory consist of a testing room, a reception room, and a control room. It is situated in the building House 21, level 4, corridor C, near the Dept. of Computer Science (corridors D and E).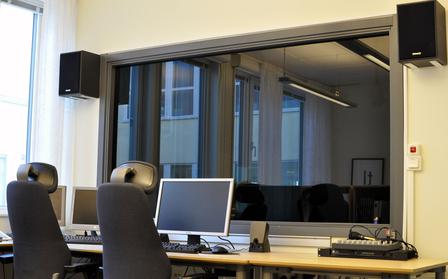 The laboratory is in rooms 21C 415-417 (map of the university).
The testing room is big enough to host other types of activities than mere usability testing of one user before one computer. Team work and consumers' struggle with products can also be studied from the control room.There is a video camera and microphone in the ceiling and web cameras and directed microphones can easily be installed and controlled from the control room.
The control room is big enough to host a small audience beside the test managers themselves. In this way, programmers and product developers as well as marketers can experience first hand the problems facing their prospective user/consumer groups.
The reception room, normally used for queuing test participants, can also be used for project discussions before a test and afterwards to present test results within a smaller group (up to 8-10 persons). Beside a whiteboard the room is also equipped with two large screens so that different team members can present data simultaneously but independently (e.g. tables over test results and screen recordings).