Eye tracking
The usability lab is equipped with eye-tracking technology, specially useful to carry out usability testing of webpages and graphical elements of interactive programs.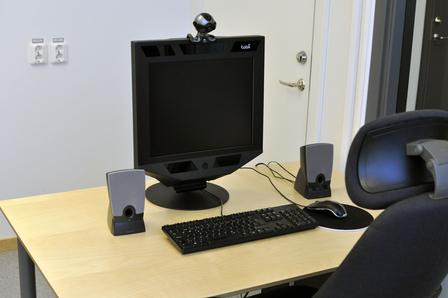 The Eye-tracker monitor available in the lab is manufactured by Tobii Technology, world leader in eye-tracking and eye-control solutions.
Tobii Studio is the software system used for controlling the eye-tracking monitor. Tobii Studio allows the Test Leader to set up experiments, enter a number of Test Participants for each experiment, select different kinds of sources to eye-track (e.g., images, web pages, movie clips, etc.) and analyze the recorded eye-gaze from participants by defining Areas Of Interest (AIOs), using Hot Spots images, replaying the participant's gaze pattern, and other features.
Students interesting in eye-tracking would benefit from studying Pernice, K. & Nielsen, J. (2009) Eyetracking methodology: How to Conduct and Evaluate Usability Studies Using Eyetracking. It's available for free.
Another recommendable book is Bergstrom, J.R. and Schall, A.J. (2014). Eye Tracking in User Experience Design. Morgan Kaufmann, Burlington.