SweDigArch enables the archaeology of the future
2021-10-18
SweDigArch has been awarded funding from the Swedish Research Council to create a national infrastructure for digital archaeology. The new infrastructure is a collaborative venture between six Swedish universities, the National Heritage Board and National Historical Museums. SweDigArch is a unique initiative that will link data from research, archaeological excavations and digitized museum collections. It will enable the advanced data driven analysis of complex information from the entirety of Sweden's history, from the last Ice Age to the present day.
Society faces major challenges towards achieving sustainable development. Archaeological and palaeoecological evidence, buried within the landscape, provides a unique time perspective with which we can meet these challenges. These traces of past human-environment interactions are not only important for understanding the past, but also allow us to formulate solutions for a sustainable future.
The digital and scientific developments of the 21st century have led to an exponential rise in the amount of data on our history created through research and contract archaeology. The potential to undertake large-scale and complex analyses on this material has not, however, been fully exploited. Much of the available data is difficult to find and scattered in various museum collections and archives. Even more data has never been made available for research or even digitised.
The National Infrastructure for Digital Archaeology, SweDigArch, will empower archaeological and interdisciplinary research on these invaluable sources: from in-depth local studies to large-scale syntheses. Archaeological surveys provide information on lifestyles, economy, social organization, technological development and resource use. Scientific analyses tell us about human health and living conditions, diet and migration patterns, contact routes within and outside Scandinavia. Together they reveal how plants, animals and environments have been affected by, and influenced, both the climate and human societies. With the help of GIS (geographical information systems) and data science, this complex interplay can be analysed over space and time.
SweDigArch will build an infrastructure that collates and makes available the enormous knowledge potential that exists in archaeological documentation, scientific analysis results and cultural heritage collections. It will give researchers the opportunity to undertake complex data-driven analyses on materials that have not previously been possible.
- The information is important for understanding our past, but not least to be able to formulate solutions for a sustainable future. By collecting, managing and analyzing a large amount of data from our history, we can support the development of society and find solutions that take into account both the needs of people and the environment. SveDigArch will also make it possible for Swedish archaeological and paleoecological data to contribute to global environmental research to a much greater extent than before, says Eva Svensson, professor of environmental science and associate professor of historical archeology at Karlstad University.
SweDigArch is a consortium led by Uppsala University and including Karlstad University and the universities of Umeå, Lund, Stockholm and Gothenburg, SciLifeLab, the National Historical Museums and the National Heritage Board. The consortium will pool its combined skills and resources to exploit the potential of digitalisation for achieving its goals. Linked Data, open formats, common vocabularies and the semantic web will massively increase the usability of Swedish archaeological data, not only for research but also in a global context.
Through SweDigArch, science will be able to answer new and highly topical questions about the past, present and future, as well as support societal development by analysing, evaluating and recommending solutions that take the needs of both people and the environment into account. SweDigArch will considerably enhance the capacity for Swedish archaeological and palaeoecological data to contribute to the global environmental research agenda.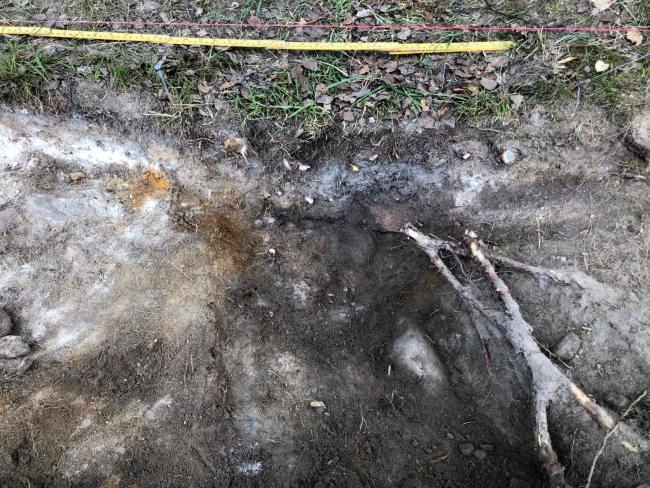 Photo: Eva Svensson.
This posthole, found during archaeological excavations at Kårebolssätern in northern Värmland, is a small piece of the puzzle for SveDigArk.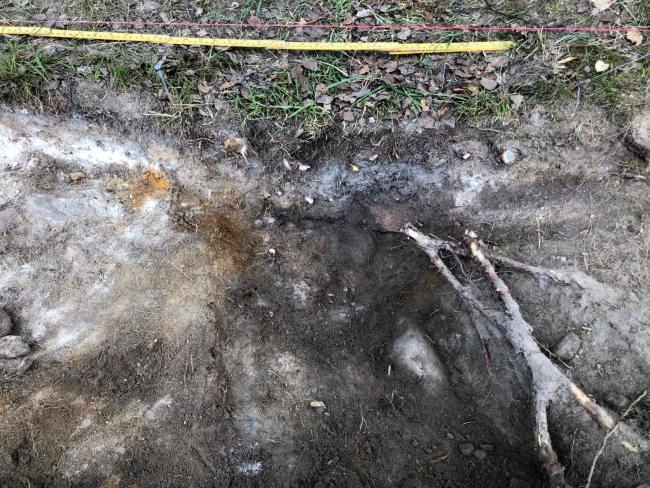 Photo: Eva Svensson.
This posthole, found during archaeological excavations at Kårebolssätern in northern Värmland, is a small piece of the puzzle for SveDigArk.