Navigator gave the mechanical engineering workshop a boost
2023-04-03
In order to succeed in accelerating the growth of scalable companies, an external perspective is required that looks at an organisation to find development opportunities and potential for improvement. The mechanical engineering company Bråruds Mekaniska AB took this opportunity when they participated in the business accelerator Navigator Scaleup, where researchers from Karlstad University have contributed with their expertise to the company's own extensive development work.
The family business Bråruds Mekaniska AB started in 1985 and has long experience in manufacturing and processing components, as a supplier to companies such as Valmet, Outotec, Wenmec, GL&V, Uddeholm and TetraPak. The company is currently run by Anders Westlund and Jörgen Johansson.
Their bank, Fryksdalens Sparbank, suggested to Anders and Jörgen that the company should participate in the Navigator Scale-Up business accelerator process, as a way to find opportunities for long-term growth. They accepted the challenge.
The Navigator Foundation is an initiative of the Swedish Savings Banks Association, which aims to take the Navigator Scaleup concept further. The idea is to create growth in scalable micro and small companies whose management and owners have a desire and ambition to grow in terms of turnover and create new jobs. The participating companies enter into a process for about two years. During this period, they are supported by a navigator consisting of a needs-based number of people with different competences. These are hand-picked based on the needs of the specific company. In Bråruds Mekaniska AB's case, this meant a sales manager with experience of subcontracting, a researcher in process-oriented business development, an experienced business leader within the process industry, and a business developer. Common to all four is that they have entrepreneurial experience and know what it is like to be a growth leader in a scalable company.
The researcher in this case is Marie-Therese Christiansson, Associate Professor of Informatics at Karlstad Business School.
- I have had the opportunity to take on a coaching role in a context with other growth competences and with two sharp business leaders, which has been very rewarding, says Marie-Therese. The match-making for such a long-term and thorough collaboration is extremely important. The task for us navigators was to get the company in a condition to be handed over at a generational change, where the company management's starting points showed a certain uphill struggle, as much of the work was done on impulse and no real strategies were in place.
In a Navigator Scaleup process, the company and the navigators normally meet for about seven meetings, once every quarter. In between meetings, the company is given various forms of "homework" to work on until the next meeting.
The process starts with a blank piece of paper. You locate where the problems lies in the organisation, and recognise the highlights and success factors that already exist. Targets are set for different timeframes.
- Smaller companies usually don't have a sporting chance to do business intelligence," says Anette Rhudin, chair of the Navigator Foundation and initiator of the Navigator concept. Let alone setting targets for their own operations. With Navigator you get the chance to do just that, to take control of your own situation with some help.
Bråruds Mekaniska AB sees great value in being involved in a Navigator process.
- It was flattering that our bank saw the potential in our business. Today we look at the company with completely different eyes than we did before. We have spent a lot of time on our development, which is necessary to move forward! We have become more confident about our business. We used to think "What we do is not special..." YES it is! That was still the best lesson! We are pretty good anyway," say Anders Westlund and Jörgen Johansson.
During the course of the process, ongoing development work took place. The company was tasked with actively working with everything from setting aside time for strategic planning, identifying stakeholders, designing a process for acquiring new customers, setting budgets, defining and prioritizing business processes, requiring IT support, producing marketing materials and setting goals.
The Navigator Scaleup process also triggered a completely different way of thinking.
- What have we really got ourselves into? Everything was quite overwhelming and scrutinising both on a personal and corporate level, say Anders and Jörgen. Initially, we didn't see ourselves primarily as business leaders, but rather as practitioners in the workshop. Planning has become much better now and we see everything in a more long-term perspective. By dividing the responsibility among more people, we get people in the right place and get the most out of each person.
There are several positive outcomes from the Navigator Scaleup era. A new business system has been acquired, administration has been streamlined, turnover has increased and it has been possible to recruit new staff. And above all, courage has increased.
- We have taken a number of new decisions that would probably not have been made if we had not been involved in Navigator. For example, a risk analysis. The company have also joined a group, so we have been purchased to a certain percentage, a step we probably wouldn't have dared to take if Navigator hadn't happened. This has been an incredibly fun journey, a real kick, you grow as a person, say Anders Westlund and Jörgen Johansson.
There is a strong interest in the Navigator Scaleup concept throughout Sweden, and the Navigator Foundation is also considering scaling it up to the rest of Europe. Other actors that have been or are involved in processes are Ideon Science Park, Dalarna Science Park, Science Park Skövde, Create, BizMaker and Glava Energy Center. The companies have been from many different industries.
- Which industry it is plays less of a role in the success of a process, what matters is the competences of the navigators involved. And of course the motivation and willingness to change of the companies themselves, says Anette Rhudin, chair of the Navigator Foundation.
It is usually said that the university has three tasks: education, research and engaging with the surrounding community.
- As a researcher, I see being involved in a Navigator Scaleup process as an excellent example of the latter, says Marie-Therese Christiansson. I believe that this is a role that may become increasingly common in order to reach out and make a difference: as a coach supporting lifelong learning, where you through expert-based questioning and a curious approach can support business leaders to find and define their strategies, working methods and messages to convey.
More information on the Navigator Scaleup concept:
https://www.navigatorscaleup.eu/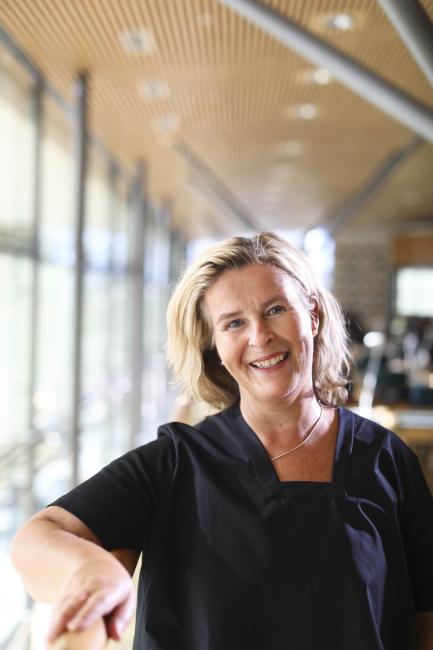 Marie-Therese Christiansson, associate professor in Informatics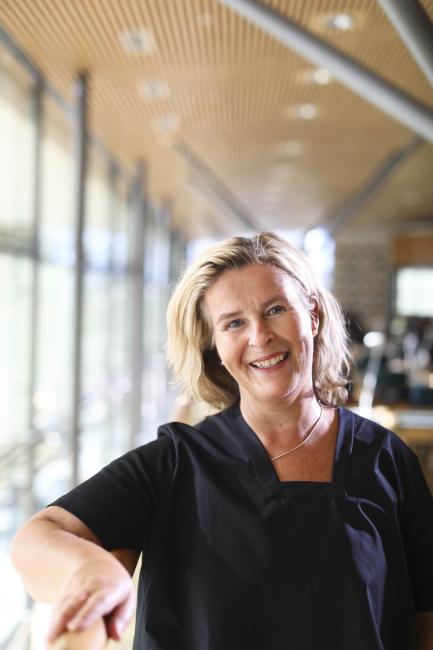 Marie-Therese Christiansson, associate professor in Informatics