e-Services Course combines Business Administration and Information Systems Use
2018-11-26
Two years ago, the course "Service Management and IT: Electronic Business" was made available in English. Today, it appeals to both Swedish-speaking and International students. The connections made to the latest research in service management and information systems use, in combination with working on cutting-edge cases from organisations, makes the course an attractive choice for students in Information Systems and Business Administration.
The course is part of the programme "IT-design: Enterprise Systems and Business Administration" at Karlstad Business School, and is also available as a freestanding course.
One of the aims of this 15 ETCS course is that the students learn to speak the language of both disciplines. The business administration students acquire more knowledge on how an information system is connected to the user perspective and organisation of work, and information systems students gain deeper insights into the concepts and models within services, marketing and leadership. An important aspect of the course is to develop skills about how to relate models of service management and information systems use to each other, that is, shifting perspectives. The project work of the course is delivered through a collaboration between Martin Hamilton, Drivhuset, lecturer and inspirer on entrepreneurship and innovation processes, and course coordinator Odd Fredriksson, Information Systems.
- Half of the course consists of seminars and lectures where we use research articles, course literature and invite guest lectures to give a business or organisational perspective. The other half is made up of projects where the students work in groups on cutting-edge cases from various organisations. This year the Swedish Consumer Agency formulated interesting questions for the student teams to investigate and propose digital solutions, says Odd Fredriksson.
From Swedish to English
This year's student group consists of 16 course participants, that includes four exchange students. Odd Fredriksson sees the fact that the course is available for exchange students and conducted in English as a great advantage:
- Internationalisation gives an extra dimension to the project work in particular. It provides increased knowledge on cultural differences and increases the diversity of perspectives.
For International students the project work of the course is a valuable opportunity to work together with Swedish students. One of the exchange students writes in the anonymous course development survey:
"The best thing to say about this course is that it was made for a foreign student from a totally different culture to really interact with Swedish students. I really felt engaged because we enjoyed exchanging about our cultures, our working methods, etc. Talking and writing English is a substantial learning point and I really appreciated the efforts not to turn to Swedish."
Appreciated collaboration with different organisations
The course was offered for the first time 18 years ago. One of the initiators was Bo Edvardsson, Professor in Business Administration, scientific leader of CTF (Service Research Center) for several years, and more recently as a Pro-Vice-Chancellor at Karlstad University. This year, Bo held his final lecture on the course.
- Obviously, a lot has changed over the years. Services are no longer an "add on" on products or offers with certain qualities, something predictable. The concept of service is nowadays described on how value is created together with customers and other stakeholders. Technology enters as an important resource and facilitator. The most important I want to convey to the students is how value is co-created and in new ways – how innovations contribute. What is especially important is how innovations are diffused on the global markets. How does this happen? How come?
This year's cutting-edge case was offered in collaboration with the Swedish Consumer Agency's unit of consumer support, with a focus on "Hello Consumer" (Hallå Konsument):
- We are actively working within Hello Consumer with regard to digital perspectives and tools. We have not had such clear expectations on the digital solutions the students should design. The important thing is that we get an outside perspective on our operations. It gives us the opportunity to twist and turn on our own perspectives. We have for example today got a presentation of a digital tool for company validation with a so-called plug-in with help buttons enabling the shopper to attain relevant shopping information when surfing on different e-Commerce websites. That is something we probably would not have thought of ourselves, Marija Borenius who is head of the consumer information and guidance unit of the Swedish Consumer Agency notes.
Working on real cases is something that is appreciated by the course participants. One of the comments after the presentation and examination was:
"Many course members have said that they have felt that the Swedish Consumer Agency has been generous with information, and working with them is a pleasure."
Earlier real cases have been, among others, brought from the project Verksamt Värmland. The project leader of Verksamt Värmland made a follow-up 10 months after the course, reflecting on the student ideas that are implemented. Verksamt Värmland is working together with Region Wermland and a number of enterprise promoting actors to build a Regional Export Centre (REC) in Wermland. REC is to be published on verksamt.se/varmland and provides more clarity to companies with issues regarding export and import.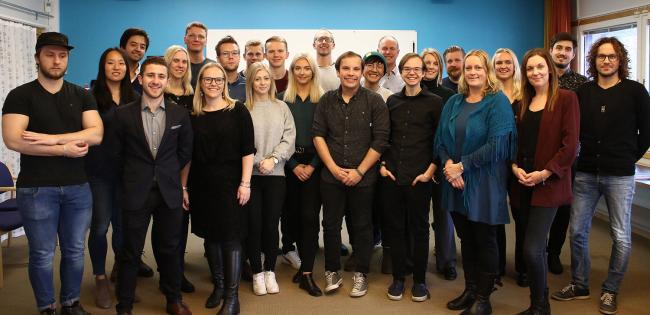 Photo: Erik Axelsson, Drivhuset
All 16 students together with representatives from the Swedish Consumer Agency, Martin Hamilton from Drivhuset and course coordinator Odd Fredriksson.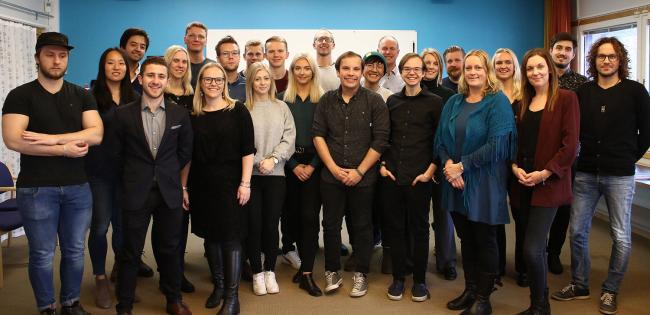 Photo: Erik Axelsson, Drivhuset
All 16 students together with representatives from the Swedish Consumer Agency, Martin Hamilton from Drivhuset and course coordinator Odd Fredriksson.