CTF blog: Learning from the pioneering founders of the service research field
2023-06-22
A small group of pioneering founders led the creation and early evolution of the service research field. A new article in Journal of Service Management provides service wisdom from ten of those pioneering founders, me being one of them. 
Professors David Bowen and Ray Fisk specified three criteria by which to identify a pioneering founder. In total, 12 founders met the criteria were invited to join Bowen and Fisk. The founders answered a set of questions regarding the state of the field and Bowen and Fisk developed nine wisdom themes for service researchers to consider and to move the field forward.
In this blog, I present and comment on three of the themes.
Get out in the field to interview actual managers, frontline providers, and customers
Stay close to practitioners
Make service research a means for positive change in the world
The service research field is in its fifth decade and started to respond to business needs in a growing service economy. Service organizations needed concepts, framework, and theory, grounded in the logic of service and not in a production and goods logic. Service research was developed in close collaboration with management practice and combining relevance and rigor.
What can we learn from these pioneering scholars in the service research field?
First, the importance of taking a holistic approach to service and emphasize the human factors. By recognizing that service extends beyond just the product and encompasses every aspect of the customer experience, from the physical space to the employees, we can create a more complete view of what makes a service successful. This systemic focus is still important and in need of development to become means for positive change in the world. Emphasizing the human factors as well as including AI, smart and sensing technology is to me necessary in our future research projects and efforts to develop service and management guidelines.
Another key insight from these pioneers is the importance of staying close to and collaborate with practitioners as well as with scholars in other academic fields. This might include experts in circularity to respond to sustainability challenges in service management or computer science to embrace digital technologies and the growing role of technology embodiment. Whether it's between customers and firms, or between different departments within a company, creating a shared sense of purpose and working together towards a common goal is vital to enable and create service experience that add value for customers, employees, and other stakeholders.
Third, we can see the importance of staying curious and continuing to push the boundaries of the field. These pioneers did not just accept the status quo; rather, they were always looking for new insights and concepts that could help to better understand the complex world of service and make the world a better place. By staying open-minded and continuing to learn and grow, we can contribute to the ongoing advancement of the service research field and thus positive societal change.
Today, service technology research has become commonplace, especially on service robots, digital platforms, Artificial Intelligence and smart sensing technology. Service researchers now have a huge range of opportunities to study and improve the interactions between humans and technology and thus improve service performance for all engaged actors in the service system. It may take a long time for these new technologies and digital experiences to be enough cost effective and convenient to improve human lives without destroying our planet.
When addressing many of the societal challenges today, service scholars need to develop better forms for collaboration with one another, and learning from businesses and other organizations. A wide range of empirical studies, in close collaboration with service firms and mangers, combined with theorizing and ongoing conceptual developments can shape a successful service-led way forward.
I suggest service scholars to join forces to provide funding for long-term research programs allowing for longitudinal empirical studies as well as methodological and service theory development. In doing this we can and should learn from the pioneering founders and their wisdom presented in the above referred to article in Journal of Service Management.
Bo Edvardsson
Professor in Business Administration and founder of CTF
Reference
Bowen, D.E., Fisk, R.P., Bateson, J.E.G., Berry, L.L., Bitner, M.J., Brown, S.W., Chase, R.B., Edvardsson, B., Grönroos, C., Parasuraman, A., Schneider, B. and Zeithaml, V.A. (2023), "Learning from the pioneering founders of the service research field", Journal of Service Management, Vol. ahead-of-print No. ahead-of-print. https://doi.org/10.1108/JOSM-03-2023-0121.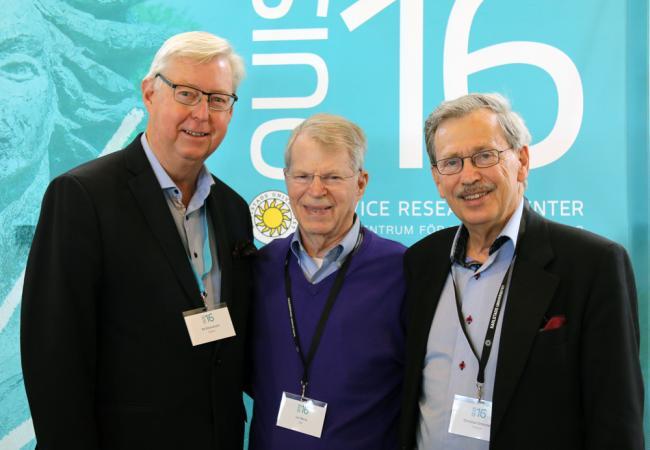 Bo Edvardsson, Leonard Berry and Christian Grönroos.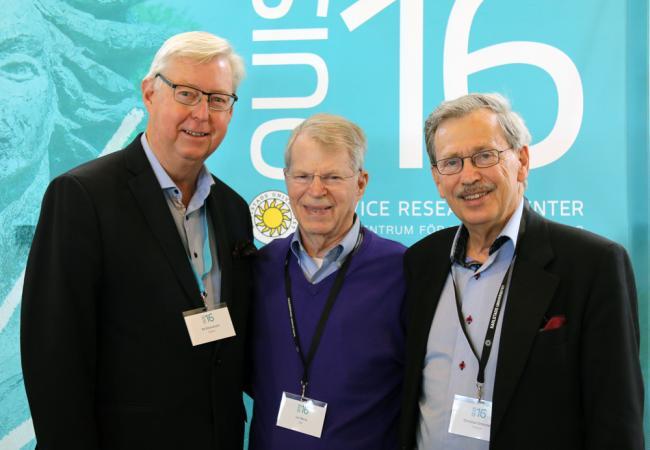 Bo Edvardsson, Leonard Berry and Christian Grönroos.