Award for study on green innovation
2023-09-19
In the study "Managing the Complexity of Green Innovation" authors Andrey Abadzhiev, Alexandre Sukhov, Antti Sihvonen and Mikael Johnson have examined how this complexity can be managed by analyzing how individual companies combine different innovation activities to develop green innovation, and how companies along the value chain align to implement these innovations.
Green innovation can promote both environmental sustainability and economic growth. However, its development and implementation can be complex due to the need to align innovation activities within and across companies.
Alexandre Sukhov, can you give an example of green innovation
- A green innovation in our context refers to construction of wooden high-rise buildings. An example of such a building is 20-level high Sara Cultural Center in Skellefteå, built from massive timber. In our study we looked deeper into different types of innovation activities that companies in the value-chain engage in - product, process, position, and business model innovation - in order to make such a construction project possible. We also investigated the driving forces for companies to engage in green innovation.
These driving forces are:
Efficiency in the construction value chain

New market opportunities

Servitization
Surprisingly, pursuit of sustainability was not among the main driving forces, but still an important component. Thus, to engage different actors in green innovation it is important to emphasize profitability and business value of green innovation projects.
This is a collaboration between yourself, Andrey Abadzhiev, Antti Sihvonen, and Mikael Johnson - tell us shortly about this collaboration
- This is the first paper in Andrey's dissertation project, and is part of the EU-funded project IndBygg. Antti, Mikael and me helped Andrey to shape his work since we all saw high potential of his research and helped out with different parts of writing an academic paper, but it is Andrey who spearheaded this research.
What does the "2023 Literati Award for Outstanding Paper" mean to you?
- Receiving this award is a sign of recognition and quality of our research from an international research community. To me personally, it is a signal that we are doing something right, and we should continue improving our research capabilities even further.
Alexandre Sukhov, Andrey Abadzhiev and Mikael Johnson are part of Karlstad Business School and the Service Research Center (CTF) at Karlstad University, and Antti Sihvonen works at Jyväskylä University in Finland.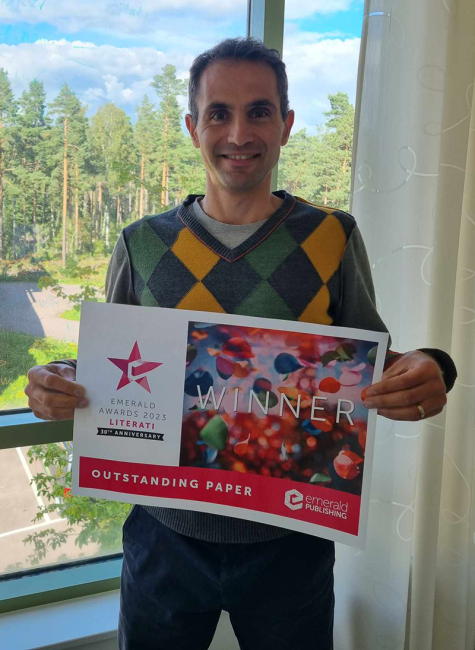 Andrey Abadzhiev, PhD student at Karlstad Business School.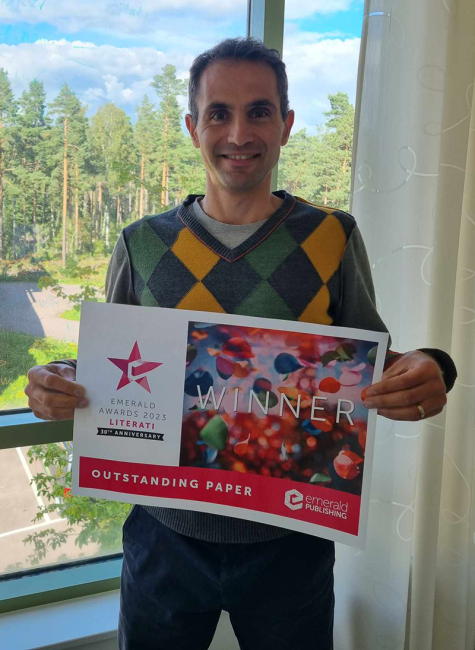 Andrey Abadzhiev, PhD student at Karlstad Business School.