Journals
The library subscribes to 12 000 journals, both Swedish and International. Most of them are electronic versions, but about 150 are print journals.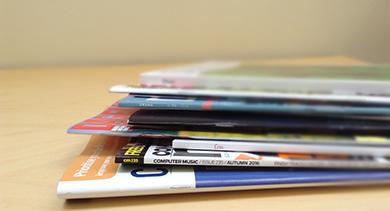 E-journals
Most of the journals are available in electronic form and access is restricted to the University campus. However, students and staff members may also access them from home using their KauID. 
Printed journals
Printed journals are found on floor 1 or 3 in alphabetical order.  Journals may be borrowed overnight.
The latest number + current year are placed on floor 3.
Previous numbers are found on floor 1.
Search for journals and articles
To see whether the Library have access to a certain journal you can use the journal list "Publication finder". It contains both printed journals and e-journals.  Search for words contained in the journal title or browse by discipline.
Our Discovery Service "OneSearch" provides access to licensed information resources through a single search. Use this resource to search for article titles or authors.
Interlibrary loans - order article copies
If you need an article from a journal the library doesn't subscribe to you can order an interlibrary loan copy for a fee.
Agreements
In order to get access to electronic resources, the university library has signed agreements with many publishers and vendors. Many of the agreements are negotiated by the National library and the Bibsam consortium.