Systematic reviews
Systematic reviews are designed to identify, evaluate and summarise the results of relevant international studies in order to answer a previously specified question, or questions. Systematic reviews are a fundamental and well-established part of evidence-based medicine, and are becoming more and more common in other fields.
If you are a bachelor's or master's student and have been asked to conduct a systematic review, you should rather do a structured literature review, including only certain aspects of the methodology described on this page.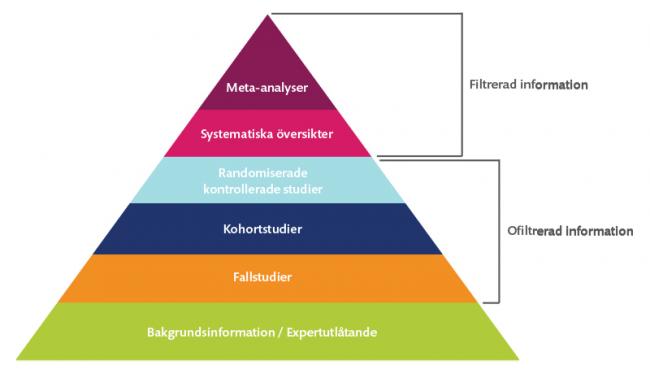 Photo credit
Evidenspyramiden (Universitetsbiblioteket Karolinska Institutet)
Work on systematic reviews begins with the creation and registration of a protocol. Examples of databases where protocols can be published are Prospero, Campbell, Cochrane, Open Science Framework  (OSF) and Collaboration for Environmental Evidence (CEE). These databases should be checked in case any similar study has been registered and approved or underway. Additional purposes of the protocol are to avoid bias and to make the process transparent. The protocol must be adhered to and, if changes are made during the process, the protocol must also be adjusted.
Search process
A central part of a systematic review is made up of a comprehensive, structured literature search, which is presented in the published article or report. You should always search in several databases, using highly sensitive search strategies and predetermined selection criteria. Since the search strategy must be transparent and reproducible, it is important that all the steps are carefully documented. Search terms, inclusion and exclusion criteria, as well as databases searched, must be accounted for.
Example of a table with inclusion and exclusion criteria:
| | |
| --- | --- |
| Inclusion | Exclusion |
| Peer-reviewed articles | Non-peer-reviewed articles |
| Published between 2000 and 2020 | Published before year 2000 |
| Language: English | Languages other than English |
| Ages: 18 y.o. to 45 y.o | Children up to 17 y.o. and adults over 45 y.o. |
It is usual to use some type of method to structure your searches, for example, PICO:
Selection and screening
The PRISMA flow diagram can be used to document the search-and-selection process.
Assessment of relevance requires two people acting independently of each other. Reference management software such as Endnote and Zotero can be used for organizing references in groups and removing duplicates. In the process of selection and screening, online applications for systematic reviews facilitate the process, i.e. Rayyan and Covidence. 
If you are a researcher or a doctoral student undertaking a systematic review and need assistance in doing a literature search, feel free to contact the library's research and publishing support forskarstod@kau.se.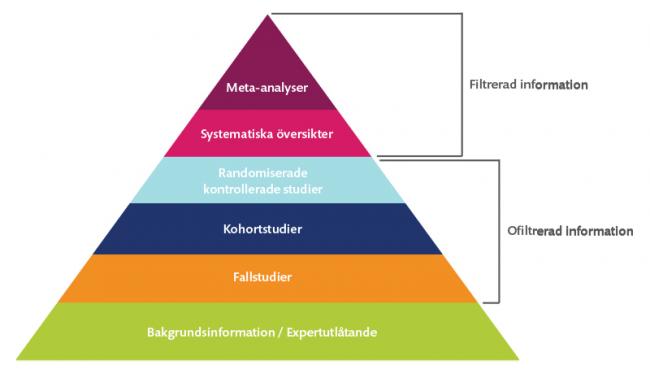 Photo credit
Evidenspyramiden (Universitetsbiblioteket Karolinska Institutet)