Jazz
As its name indicates, the generic specialisation rhythmic and improvised music (Ri) concentrates on improvised rhythmic playing. This is one of the three generic areas at Ingesund School of Music (MHI).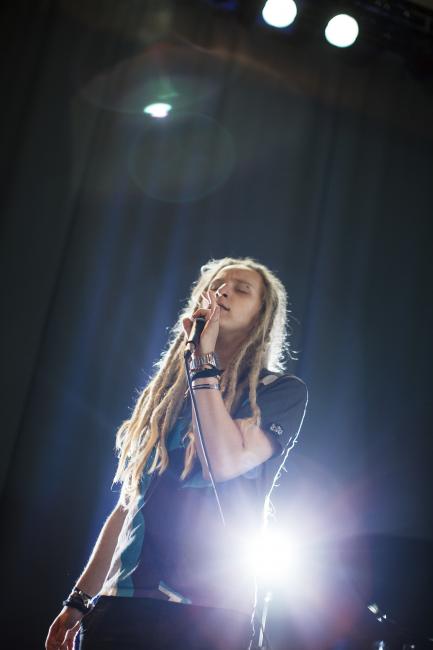 At MHI, rhythmic and improvised music corresponds to styles previously known as under the umbrella terms Afro-American Tradition or Jazz. At many other Nordic music schools, these styles are simply known as rhythmic music. Jazz had long been the dominant rhythmic musical style at MHI, but now many other styles are included. Ensembles sometimes play jazz, but they also play what may be called fusion, world music, pop or contemporary improvisation.
All Ri styles are based on improvised rhythmic playing and players develop their individual improvisation skills. In order to enjoy Ri, students have to be interested in developing these aspects of their playing. The entrance test for specialisation in Ri mainly assesses improvisation and rhythmic playing skills.
Ri is one of the three generic areas included in the Music Teacher Programme, Music (60 ECTS credits), and Music College, as well as in a number of standalone courses. Ri students from different years, courses and programmes work and play together in different ensembles.
Main instrument
During a typical semester, Ri students take ten 45-minute lessons on their main instruments. The exact number of hours varies a bit from semester to semester and between different courses and programmes, and slightly fewer hours of lessons are offered than for instance to students specialising in classical music. On the other hand, Ri students take on average more ensemble lessons per week than students in the other specialisations and in most other Music Teacher Programmes in Sweden. Students on the Music Teacher Programme at MHI take main instrument lessons each of the 10 semesters of the programme.
Ensemble
Ensemble lessons are either offered each week or as concentrated projects spanning a few days. Students meet different ensemble teachers over the course of the programme. All ensemble teachers are active musicians who have different ways of working, specialities and repertoires. This means that the ensemble courses on the whole are varied and lively.
At Ingesund School of Music, collaboration with students and teachers from classical and folk music is natural. MHI students typically do their own projects that do not have clear generic delimitations. You have access to friends playing string and wind instruments when you want to test out your arrangements and compositions, as well as to practice rooms and repetition venues at night and over weekends.
MHI regularly engages active external musicians in workshops and concerts, thus providing an inspirational complement to regular teaching.
During the third year of the Music Teacher Programme, students have the opportunity to study abroad. We also receive exchange students who want to hone their skills with our teachers and be part of the creative artistic environment offered by Ingesund School of Music.
Jazz music teachers
Teachers can be contracted on other instruments, if necessary.
Petra Ahlmark, voice
Hallvard Godal, saxophone and ensemble
Robert Henriksson, piano and double bass
Martin Hultén, ensemble
Klabbe Hörngren, keyboard and ensemble
Alfred Lorinius, electric bass, double bass and ensemble
Daniel Nolgård, piano, music theory and ensemble
Rebecka Proba, voice
David Stackenäs,  electric guitar and ensemble
Terje Sundby, drums and ensemble
Lisa Östergren, voice and ensemble