Sustainability award goes to researcher at Karlstad University
2018-05-18
Valmet's Tissue Technology Award 2018 goes to Björn Sjöstrand, Ph.D. student in chemical engineering at Karlstad University, for his research and development of computer models for energy efficient tissue production. The winner was announced by His Royal Highness Prince Carl Philip, at the Tissue Making Conference in Karlstad.
- A fine example of how the business sector can contribute to the greater good of society, His Royal Highness stated when handing over the 25,000 dollar reward. I'm glad that Valmet awards the development of innovative solutions for a more sustainable future. It's a pleasure for me to be here today and hand out this award.
Great reward to best innovation
The Award is granted every second year and the winner is presented in conjunction with the Tissue Making Days in Karlstad. The awarded innovation goes hand in hand with Valmet's ambition to develop environmental sound innovations for the paper making industry. When completed, Björn Sjöstrand's innovation will provide the industry with better understanding of the tissue production process, and his work will contribute to a more sustainable tissue technology in terms of energy consumption and utilizing of raw materials.
- I believe this will be a great stepping stone towards environmental sustainability and cost-efficient tissue production, Björn Sjöstrand says. Because in my opinion, true suitability will only be obtained if we also make the product or processes better and cheaper at the same time. Otherwise no one will use them.
Understanding the dewatering mechanisms
Björn Sjöstrand is a Ph.D. student in chemical engineering at Karlstad University. His research is mainly about dewatering, a very important step when producing paper. His interest lies in understanding the dewatering mechanisms, with the aim to find improvents that can make the paper making process more efficient and facilitate the introduction of new smart materials to the pulp.
The awarded models developed by Björn Sjöstrand are easy to use and don't require any special equipment besides a regular computer. They are a most welcome piece to the puzzle of understanding the tissue process. Thanks to his work, tissue producers and alike can now simulate the whole process before going in to actual production trials. That means you can find the most energy and raw material effective settings on forehand and being able to experiment without affecting the environment. His models will be public in late 2019. Supervisors are Lars Nilsson, Professor in chemical engineering, Henrik Ullsten, Associate Professor in chemical engineering and Christophe Barbier, BillerudKorsnäs.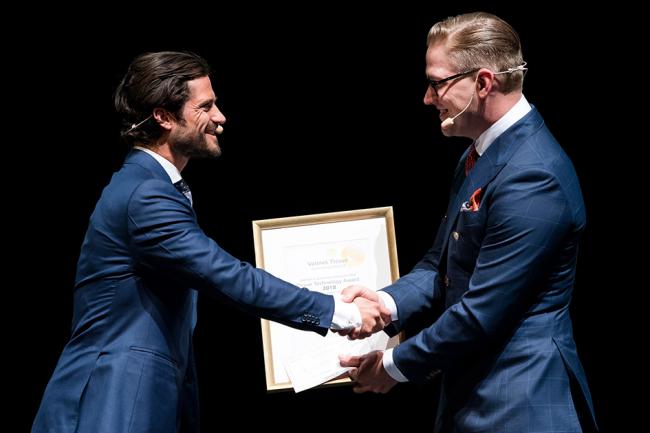 Photo: Fredrik Karlsson Solsta foto
The winner, Björn Sjöstrand, was announced by His Royal Highness Prince Carl Philip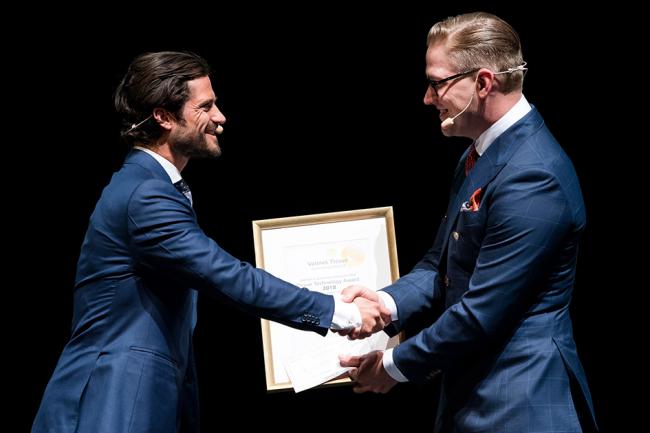 Photo: Fredrik Karlsson Solsta foto
The winner, Björn Sjöstrand, was announced by His Royal Highness Prince Carl Philip