Tool for experimental research on cloud computing and networking
2017-02-08
Researchers within Computer Science at Karlstad University have developed a tool, OpenStackEmu, for experimental research on data communication networks, especially on the area of cloud infrastructure. Robayet Nasim and Cristian Hernandez, Phd students in Computer Science at Karlstad University, visited CCNC 2017 (Consumer Communications & Networking Conference) 8-11 January to demonstrate the tool.
For many researchers within academia, focused on data communication for cloud computing, it is often a problem not to have full control over a large data centre environment to do experimental research on.
Emulate large environment with small amount of resources
"With OpenStackEmu it is possible to emulate large cloud network environments to test different scenarios without having a large number of servers and switches," says Robayet Nasim. "For example, with just two computers placed next to each other here in Sweden, it is possible in reality to test how Software Defined Networking (SDN), can improve video streaming in a distributed datacentre where servers are located both in New York and Las Vegas".
The architecture of the tool is complex and integrates a real open source cloud environment OpenStack with distributed Network Emulation tools that support SDN. For example, with our tool one can test and evaluate what impact routing protocols, Virtual Machine migrations and SDN applications such as NFV (Network Function Virtualization) have on the performance of applications that run inside Virtual Machines.
Website for user support
"Due to the complexity of the tool, we have set up a public website with information about it and with the possibility for users to ask questions," says Robayet Nasim. "There are other tools such as Cloud Lab that could be used for similar purpose. Yet the advantages of OpenStackEmu are that one can configure the network that connects the servers with each other in very flexible way and everything is Open Source. It is available for everyone to be used, you own your installation together with all the data generated from it without requiring a large amount of resources."
CCNC (Consumer Communications & Networking Conference) is a yearly conference organized by the IEEE, The Institute of Electrical and Electronics Engineers. This year the conference was held in Las Vegas, US and during three days Robayet Nasim and Cristian Hernandez participated and demonstrated OpenStackEmu for researchers in both academia and industry from all over the world.
"Many participants during the conference showed interest and appreciated our demo of OpenStackEmu," says Cristian Hernandez. "Earlier this fall, we showed a first version of the tool in a conference at Karlstad University. Based on the feedback given, we improved OpenStackEmu and we were very happy to demonstrate our work at CCNC 2017"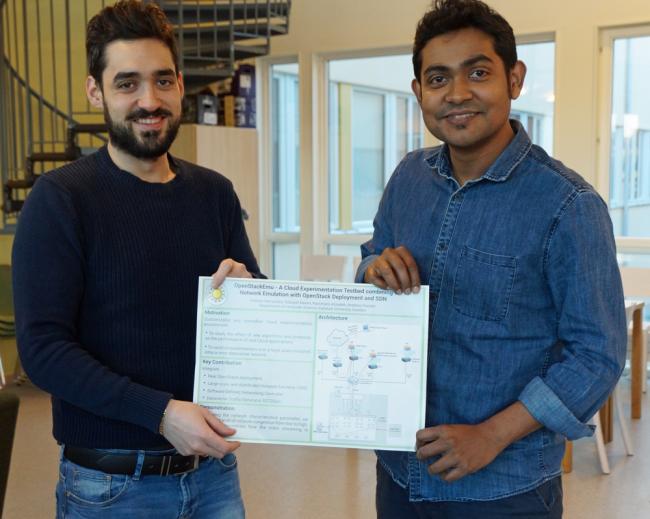 Cristian Hernandez and Robayet Nasim shows the OpenStackEmu poster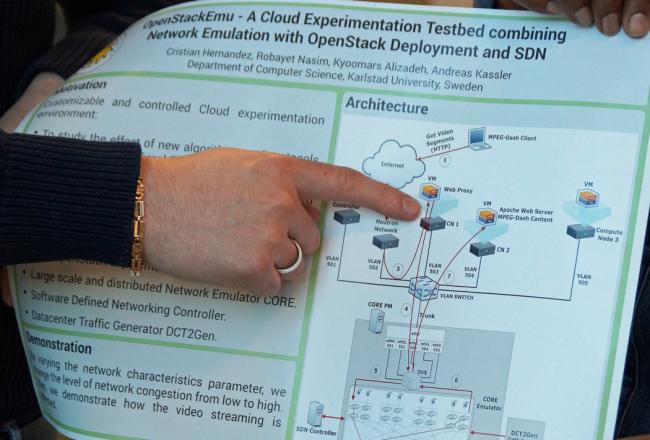 An illustration of OpenStackEmu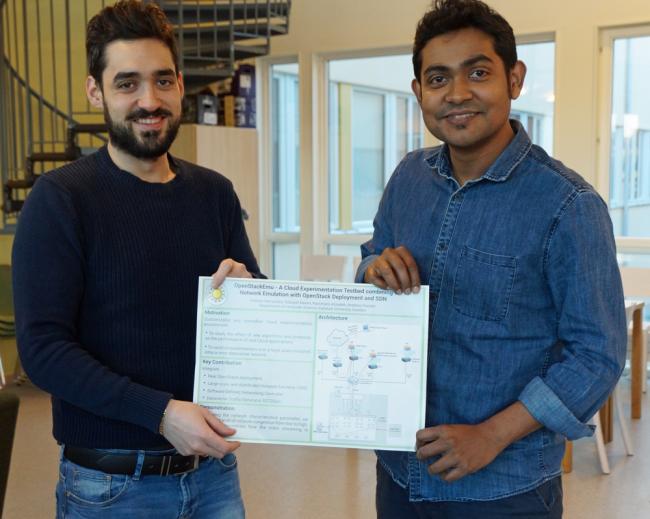 Cristian Hernandez and Robayet Nasim shows the OpenStackEmu poster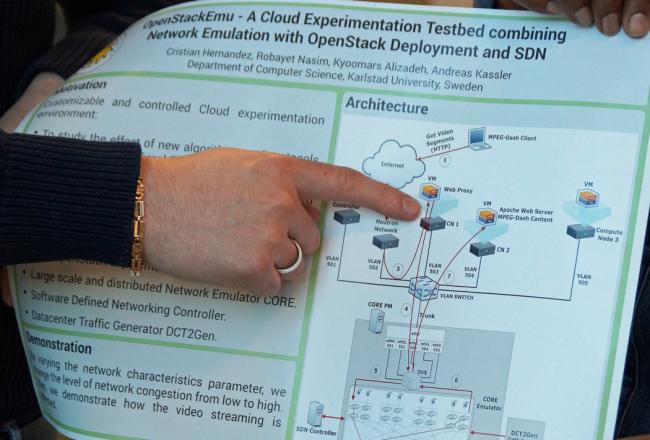 An illustration of OpenStackEmu