SNITS lunch: Stamford about system development – then, now & later
2017-11-24
Around 70 IT students attended the latest SNITS lunch at Karlstad University. This month's lunch was hosted by Stamford, who discussed their experiences and challenges in continuing the development of large tailor-made business systems, some of which have been in use for more than 20 years.
Stamford was founded in Karlstad in 1990 and has developed from a pure consulting firm into a company focused on product development. Their products are mainly branch-appropriate solutions for real estate companies, retail and shops and their clients include Coop, HSB and Beijer Byggmaterial.
"Since the autumn of 2016 we have also had an office in Stockholm that focuses on consultation work in insurance and the public sector. Today we employ 50 people in Karlstad and Stockholm," says Robin Staxhammar from Stamford.
Robin Staxhammar and Daniel Bergstam from Stamford attended the SNITS lunch. They described their experience of working with a large, tailor-made system. Some of the challenges they have encountered over the years are the choice of system and the importance of scalability. Challenges also arise in combining old and new source codes and refactoring, renovating source code.
"One would want to redesign systems that have been in use for more than 20 years, but that's not possible, so project managers and developers just have to tackle the problems," says Robin. "Another important aspect is basic documentation. Our experience is that it often lags. What we developed 20 years ago are not documented in the same way as today, so the right level of documentation has to be determined."
Importance of testing
Robins says the most important thing is to test.
"It is important to create good routines for testing before starting. Today we have several people only working with testing," says Robin.
Security becomes more important
Daniel says that social and programming skills are important if recent graduates want to succeed at Stamford. All developers come into contact with customers, and it is important to be customer-oriented. When asked what their future challenges are, Daniel answers security.
"If we look five years ahead, security will become an even more important aspect to consider, for us and the entire industry. It is important to keep up with developments, both regarding new requirements and development versions."
SNITS gives students a good career start
SNITS is a cooperation group that facilitates exchange between business, Karlstad University and IT students. We arrange study visits, guest lectures, breakfast meetings, mentor activities, practical placements and degree projects.
More information about SNITS: https://www.kau.se/snits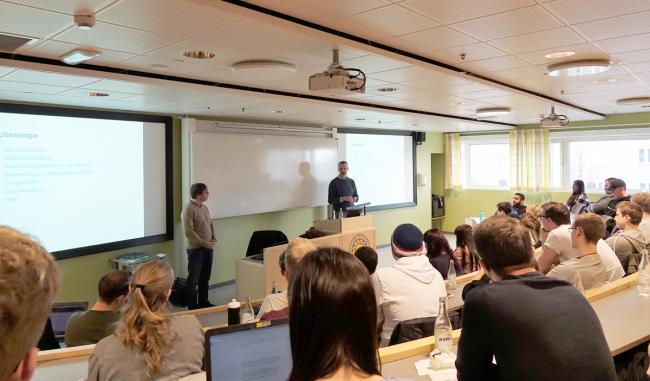 Robin Staxhammar och Daniel Bergqvist from Stamford talks about system development – then, now & later for IT students during a SNITS lunch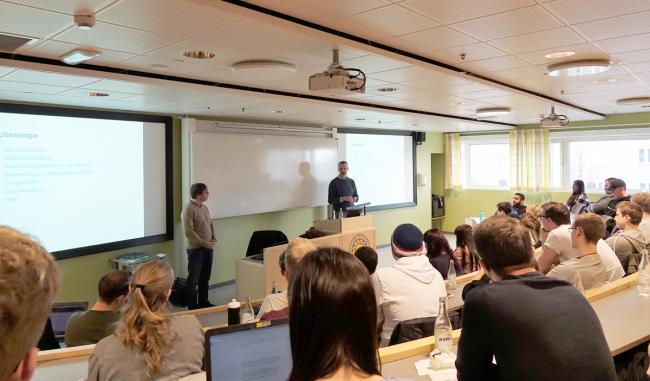 Robin Staxhammar och Daniel Bergqvist from Stamford talks about system development – then, now & later for IT students during a SNITS lunch