Researchers met helthcare developers at this year's Research Vernissage
2018-12-10
"I lead the DigitalWell Research project that aims to enhance the development of digital welfare services. Meeting people from businesses and organisations at a vernissage was interesting and different," says Stefan Alfredsson, a computer scientist from Karlstad University.
DigitalWell Research will create an innovation environment in which small and medium-sized businesses develop digital welfare services in close cooperation with researchers and the public sector.
Mari Banck, head of development at the Värmland County Council, became interested in the project. "This is a good way of reaching out to those of us who are not researchers. The vernissage gave me the opportunity to go up to Stefan and the other researchers and to speak about the art and its contents. It is important that knowledge gained through research is disseminated in different ways and that opportunities for dialogue are developed."
Karlstad University and Region Värmland together
Karlstad University for the second time organised a research vernissage to present ongoing research. This time Region Värmland was the co-organiser and the focus was on projects that form part of the Academy for Smart Specialisation. The communications agency Bulldozer had been given carte blanche on interpreting research projects in the form of creative posters. The aim is to give businesses and organisations information on the research that is conducted and how it can be used to increase competitiveness in the region. Smart specialisation involves finding areas in which a region is already strong and where there is the potential to become internationally competitive.
High ambitions in the region
"We are already a leading region in the area of forest bioeconomy and have the possibility to become so in other areas too, such as digitalised welfare services. We want to connect research, businesses, organisations and the whole community to achieve good results," says Johan Sterte, Karlstad University's vice-chancellor, who, together with regional council member Stina Höök, welcomed participants to the event. The vernissage started when each researcher was given one minute to tell the audience more about their research. Next the doors to the exhibition were opened and guests had the opportunity to ask questions of the researchers.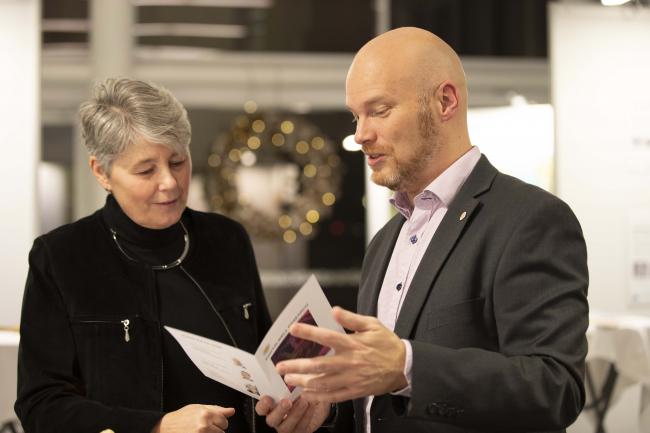 Stefan Alfredsson and Mari Banck are talking about the development of digital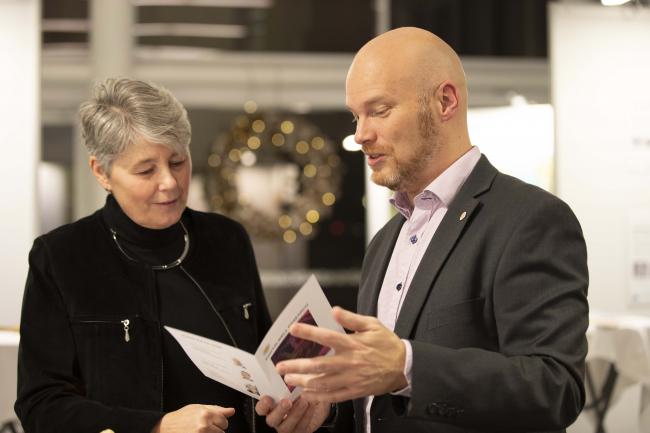 Stefan Alfredsson and Mari Banck are talking about the development of digital