New experimenters accepted for MONROE measurement platform
2017-02-13
The EU H2020 funded project MONROE (Measuring Mobile Broadband Networks in Europe) builds and operates an open, European-scale platform with multi-homing capabilities to run experiments on operational Mobile Broadband (MBB) networks.
The project has now accepted 15 new external project proposals for funding.
The MONROE project aims to measure and understand the quality of MBB networks as experienced by the end-user. MONROE also provides WiFi connectivity mimicking multi-homing in smartphones with both MBB and WiFi interfaces, to allow experimenting on different access technologies as well as exploring new ways of combining them to increase performance and robustness.
Second Open Call
During the fall the MONROE project announced a second Open Call for Experiments and Extensions. Now 15 new experimenters have been selected for funding by the project. They will access the MONROE platform to run active/passive measurements as well as to propose protocol experiments.
"Similar to the first Open Call there where a lot of interesting project proposals and we got even more applications this time. The 15 selected proposals are all given access to the platform during the rest of the project and are granted funding for up to 100 000 euros," says Anna Brunström, Professor in Computer Science at Karlstad University and responsible for the open calls. "We will meet our new external users at a User workshop in Pisa next month and I am excited to hear about all their plans for how the platform can be used. The new proposals cover several new application domains and new research issues".
The Second MONROE Open Call received 50 applications from 18 different countries. Most proposals came from Spain (7), Germany (7), Greece (7) and Italy (6).
The selected project proposals:
Characterizing Carrier Grade NATs in Mobile Broadband Networks: CGNWatcher, Scientific Excellence, Universidad Carlos III de Madrid, Spain.
Network Neutrality in Mobile Broadband: NeutMon, Scientific Excellence, University of Pisa, Italy.
Reconstruction of operator policies in MBB networks for improved user experience: RECON, Scientific Excellence, Eötvös Loránd University, Hungary.
Experimental validation of REM-based machine learning algorithms for SON using MONROE nodes: MONROE-SON, Industrial Innovation, RED Technologies SAS, Instituto Politécnico de Castelo Branco, Portugal.
Multi-homing with Ephemeral Clouds on the Move: MEC, Scientific Excellence, University of Macedonia, Greece.
Programmable and Robust Smart Grid Data and Control: RASnet, Scientific Excellence, DAI-Labor, TU Berlin, Germany.
Towards end-to-end Multipath TCP, Scientific Excellence, Université catholique de Louvain, Belgium.
Smart City Security Monitoring Platform: Cloud Eyes, Industrial Innovation, Institute of Bioorganic Chemistry of the Polish Academy of Sciences, Poznań Supercomputing and Networking Center (PSNC), and TechInnowacje sp. z o.o., Poland
Optimization of QoE of Mobile Broadband Services through Machine Learning: OPTIMAL, Industrial Innovation, Modio Computing SP & Paris Descartes University (PDU), France.
Fast and Lightweight Capacity Benchmarking of Mobile Broadband Networks in MONROE: FaLiCaB, Scientific Excellence, TU WIEN / Institute of Telecommunications (TUW), A1 Telekom Austria AG (A1), Austria.
Network Self-Optimization based on End-To-End measurements: eSON, Industrial Innovation, Universidad de Málaga (UMA), Spain.
Dynamic Pricing in HetNets: DAPHNE, Scientific Excellence, University of Thessaly (UTH), Greece.
Traffic and Data Offloading in Mobile Networks: TTOff, Scientific Excellence, University Politehnica of Bucharest, Romania.
Characterising Mobile Content Networks in the Wild: CaMCoW, Scientific Excellence, Queen Mary University of London (QMUL), United Kingdom.
Feasibility study of latency-critical connected vehicle applications in MONROE: FELICIA, Scientific Excellence, SICS Swedish ICT, Sweden.
About MONROE
MONROE is a three-year project that started in March 2015 and has a total budget of 6.5 million Euros. This project has received funding from the European Union's Horizon 2020 research and innovation programme under grant agreement No 644399.
Simula Research Laboratory, in Norway, is the organisation that coordinates MONROE. The project involves seven partners including universities, research institutes and industrial players from Norway, Italy, Spain and Sweden.
Read more about the project at www.monroe-project.eu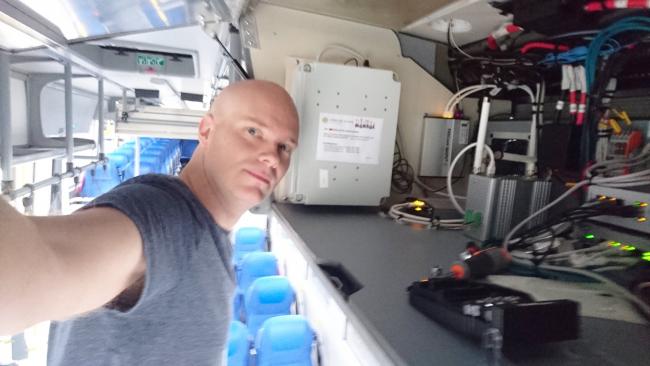 Stefan Alfredsson, researcher at Karlstad University, is mounting MONROE measurement nodes for assessing mobile broadband on public transportation.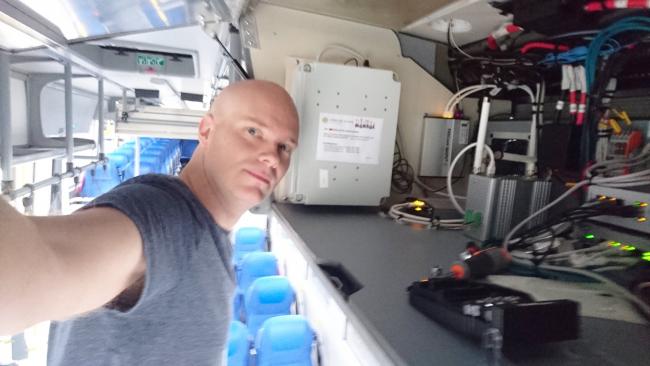 Stefan Alfredsson, researcher at Karlstad University, is mounting MONROE measurement nodes for assessing mobile broadband on public transportation.