Digitalisation may lead to more effective health services
2019-09-02
Is it possible to improve the performance of mobile data communication through a combination of technologies such as WiFi with 4G and 5G? This is what Stefan Alfredsson, senior lecturer in Computer Science, would like to find out in his research.
It is hard to imagine life without a mobile phone. It is our primary access point to social media and the authorities and offers a constant link to entertainment, shopping, and important community services. In addition, more and more digital health services are under development. The demand for reliable wireless connections will no doubt increase.
"We have traditionally relied on only one connection. But if we adapt the software, we will be able to communicate simultaneously in multiple channels in order to improve stability and capacity," says Stefan Alfredsson.
Great challenges for the health sector
Stefan Alfredsson is the project manager of a Computer Science project run by the university in DigitalWell Arena, a 10-year Vinnova project which aims to develop digital welfare services. The objective is to make it easy for everyone to prevent ill health and to receive support in relation to health issues when they need it.
"The challenges include a lack of resources in the health sector, longer waiting times, and an ageing population which will require a different type of healthcare in the future," says Stefan Alfredsson. "We think digitalisation offers a feasible approach to these challenges, since it may result in more efficiency and better use of resources. The lack of staff is a good example. If we can find ways to solve that problem more effectively, I think it would mean substantial gains. There are already digital doctor's services available which mean that you will not have to go to the health centre and stand in line, which in turn results in a lower risk of contagion in the waiting room. We might also consider a digital system in people's homes with sensors that monitor movement and will alert the health services if a person has been immobile for a while. For a system like that, it is crucial that we have a reliable connection with enough capacity to transmit images or sound, or to allow speaking to someone at the other end."
Three doctoral students
In order to develop their bid to digitalise health services further, Computer Science has installed three doctoral students, in data communication, computer security, and software development.
"We consider these aspects to be centrally important for digitalisation in this area," says Stefan Alfredsson. "We need reliable communication alternatives. Another important aspect is computer security and personal integrity. Health information tends to be sensitive personal information. For this reason, we explore who can access the information and how access can be handled with integrity. We also need good software. That is why we investigate how the health sector works with software development and software architecture and how high quality in this regard can be guaranteed."
AI can provide a more individualised healthcare
When he envisions the future, Stefan Alfredsson predicts that we will be able to benefit a great deal from artificial intelligence, AI, for instance when it comes to adapting care or tailoring medication to individuals.
"Today, medicines are typically tested on an average group, and a certain type of medication may not be effective for persons who deviate from the average. But if we can use AI and machine learning to follow up on all the factors that have an impact on treating your particular condition, we will be able to offer better, more individualised healthcare. This aspect is not included in our present research, but it raises exciting questions about the potential uses of technology."
Four research groups participate in the project
Karlstad University plays an active and leading role in DigitalWell Arena. Apart from Computer Science, research groups from the Service Research Center (CTF), Nursing, and the Centre for Gender Studies (CGF), participate in the project, as well as Grants and Innovation Office. Through Academy for Smart Specialisation and Vinnova, the university receives a grant of SEK 26 million for the first stage, which runs over three years.
DigitalWell Arena was initiated by Compare, Region Värmland, Värmland County Council, Karlstad University, Värmland County Administrative Board, Karlstad Municipality, Karlstad El & Stadsnät, RISE Service Labs, MSB, Tieto, CGI, Nordic Medtest, Effect Management, and Xmentor Management.
Read more about DigitalWell Arena on the Karlstad University website and the Compare website

Stefan Alfredsson talks about DigitalWell Arena (in swedish).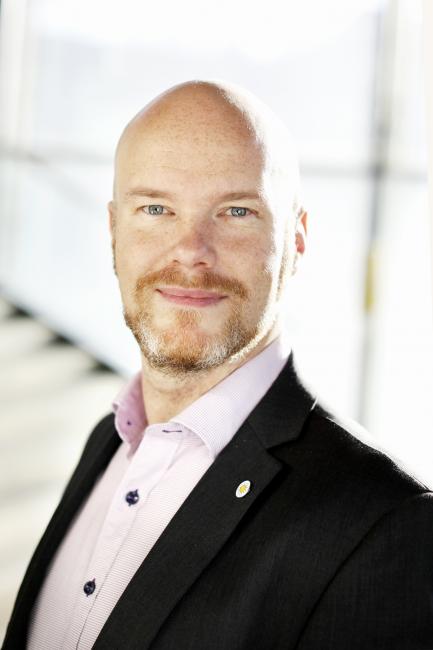 Stefan Alfredsson, senior lecturer in computer science.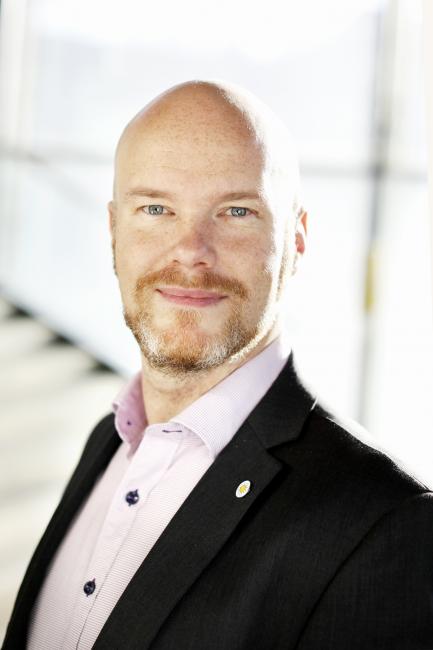 Stefan Alfredsson, senior lecturer in computer science.