Crowded SNITS lunch with a focus on the digitalisation of food industry.
2018-03-09
The room was crowded when Elvenite hosted the latest SNITS lunch at Karlstad University. IT students had the opportunity to listen to Pär Andersson, who was talking about the effects of digitalisation on the food industry, while providing examples from his company's day-to-day experience. In one example, he showed how the use of Advanced Analysis could limit the spread of salmon lice in Norwegian salmon pisciculture.
Together with some of the most prominent Nordic trademarks in Food & Beverage, Elvenite helps their clients to digitalise their processes and streamline their operations in a sustainable way in order to provide an excellent customer experience. Among other areas, Elvenite focuses on:
• Pisciculture
• Dairy and Deli
• Brewing
• FMCG
The food industry faces an entirely new challenge with new customer demands owing to
globalisation, urbanisation and digitalisation. The food production and consumption of tomorrow will not be the same as today. Big Data, AI and Advanced Analysis all provide opportunities for creating entirely new services and solutions.
- In general, when it comes to digitalisation, the food industry is lagging behind, and the conscious customers of today set ever higher standards for producers and suppliers. Nowadays, we want to be able to buy whatever we want, whenever and however we want it. Ever higher demands are also set on food safety, and consumers want to be able to trace the origin of their food. If you want to keep your relevance in the food industry, you have to be able to provide customers and consumers with fast, safe and user-friendly services, Pär says.
Blockchain provides opportunities for tracking goods, and could be used to trace the origins of certain foodstuff. In this way, producers and suppliers may retain a good relationship to the customer. Amazon Go, RECQ. Pinchos and free two-hour delivery services are all examples highlighted by Pär, where opportunities of digitalisation have been successfully taken advantage of.
- We cannot just continue doing what we have always been doing. To us, this is a way of combining new technologies with smart solutions and of working towards continual improvements in helping clients in an industry that is undergoing an almost total change. This makes working at Elvenite especially enjoyable, Pär says.
SNITS provide students with a start of their careers
SNITS is a collaboration group that provides exchanges between companies, Karlstad University and IT students. The arrange field trips, guest lectures, breakfast meetings, mentoring programmes, internships and degree projects.
- To Elvenite, SNITS is an amazing opportunity to get in touch with curious and gifted students. We get a chance to show them what we have to offer, which hopefully gives students an opportunity when choosing their fields of study. I would like to say that SNITS is one of the first steps towards employment, Pär says.
SNITS consist of representatives from Altar, Askås, CGI, Elvenite, EVRY, Prevas, Redpill Linpro, Sogeti, Stamford, Tieto, ÅF and Compare. Karlstad University is represented by informatics and computer science, as well as a number of IT students.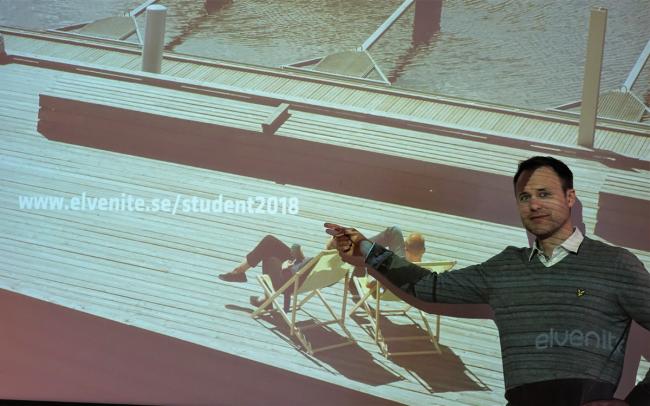 Pär Andersson, Elvenite, talked about the effects of digitalisation during a snits lunch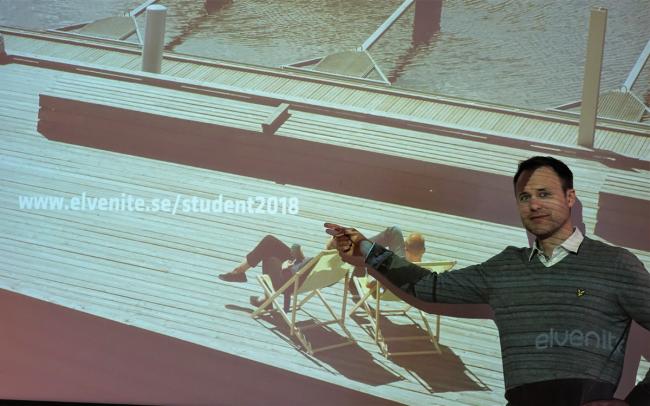 Pär Andersson, Elvenite, talked about the effects of digitalisation during a snits lunch