Organisation map - Karlstad University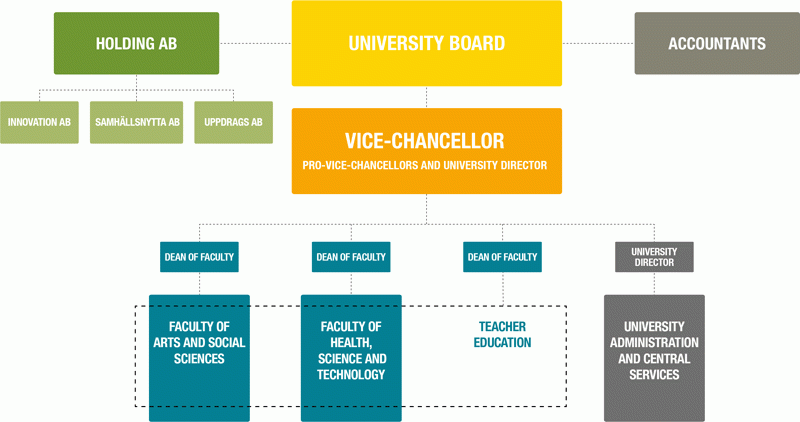 The university board
A chairperson and members representing the private sector, public organisations, and academia are appointed by the government. The board also includes members appointed by Karlstad Student Union as well as representatives of the university's teaching staff. The trade unions have the right to attend and speak at meetings.
University management
University management consists of the vice-chancellor, who is the head of agency, as well as two pro-vice-chancellors and a university director. The board has appointed one of the pro-vice-chancellors to act as deputy in the vice-chancellor's absence.
Faculties and Central Services
Education and research are conducted at the two faculties of the university: the Faculty of Arts and Social Sciences, and the Faculty of Health, Science and Technology. Faculty operations are led by a dean, who is also chairperson of the faculty board, which has the overall responsibility for quality assurance and quality development. The university also includes a teacher education board, chaired by a dean. The teacher education board has the overarching responsibility for quality assurance and quality development of the content of the teaching and research conducted within the university's teacher education programmes. Central Services, including the university library, are tasked with providing service and support to the university's students, faculties, management, and board.
Limited company and subsidiaries
Karlstad University is the owner of Karlstads universitets Holding AB. The company is in turn the sole owner of three subsidiaries: Karlstads universitets uppdrags AB, Karlstads universitets innovation AB, and Karlstads universitets Samhällsnytta AB.