Academic Celebration 
Karlstad University arrange an academic celebration in the autumn of every year. The celebration includes doctoral and honorary doctorate conferment ceremonies, the installation of new professors, and presentation of medals and scholarships.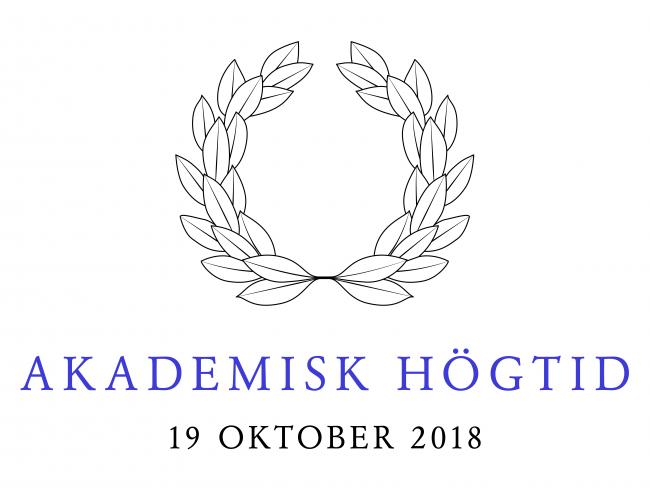 Karlstad University was inaugurated on 22 January 1999. As a young university, we wish to preserve a long-standing academic tradition of ceremonies dating back to the Middle Ages, while commemorating our own history and identity. We have therefore chosen to design our academic celebration to reflect our culture as well as maintain the link to the national and international university tradition. 
Academic Celebration 2018
Academic Celebration 2018 is held Friday October 19.
Important dates
Participant at the ceremony (PhD student, promovendus, installandus, honorary doctorate, guest and adjunct professor) receives an initial information letter week 15.
Official Invitation to Academic Celebration 2018 expires week 25.
Deadline for participation in the ceremony (PhD student, installandus, honorary doctorate, guest and adjunct professor), August 31th.
Last day of registration for external guests, September 20th.
Last day for ordering insignia: hat - August 15, ring - August 30th.
Academic Celebration Week
General rehearsal, mandatory for all participants at the ceremony, Thursday, October 18th, 4.30 pm to 6 pm.
Lecture, open to the public, students and colleagues, October 19th, 9 am-11.15 am.
Academic ceremony is held October 19th, Friday, 4 pm with subsequent mingle at Aula Magna, Karlstad University. The Formal Dinner is conducted at the Karlstad Conference and Culture Centre after the mingle.
Dear professors, adjunct professors and doctor to be,
In front of last year's ceremoni and festivities, our regular store selling party clothes and renting outfits has been closed down at Rudsvägen in Karlstad which is regrettable from a practical point of view. What I can help with is recommending that you contact the actors in the nearest region and that you contact them as soon as the emphasis is on the lease of mainly frack. In the case of frack, there is black coat with white vest and shirt that is customary during our ceremonies.

I recommend that you book a time in advance before your visit. The following players are available, unfortunately within a few miles and via the network:

Degerfors, about 65 km from Karlstad
Party and wedding palace
Medborgargatan 15 (near Coop, basement)
693 30 Degerfors
www.festochbrollopspalatset.se
Phone: 0586-44244

Örebro, about 100 km from Karlstad
Bride specialist
Rudbecksgatan 19
702 11 Örebro
www.brudspecialisten.com
Phone: 019-13 30 30

Not far from Örebro, Vingåkers outlet also sells brooches and vests. For information and address:
https://www.facebook.com/vingoutlet

Årjäng, about 100 km from Karlstad

www.nordicweddingoutlet.com
Phone: 0573-75 89 99

There are also actors on to order online:
See the film from the ceremony 2017
Photos from the ceremony 2017
If you wish to order photos from the ceremony 2017 you are welcome to contact our photographer Linn Malmén.
You make your order by e-mail, please indicate the photo-ID to linn@linnmalmen.se
180 SEK/photo, digital and free to use. The digital image is a negative that you can use to order prints on paper - in the form of enlargements, thank you cards, christmas cards and more. You can also use the digital image as desktop image on your computer, use in your social media or make an album online with digital pictures. 
For purchase please make your deposit to Bankgiro 102-8596, Linn Malmén AB