Personal life and everyday social interaction
The Personal Life and (Everyday) Social Interaction research group brings together academics with research interests in the sociology of personal life, intimacy, emotions, homemaking, and everyday interactions.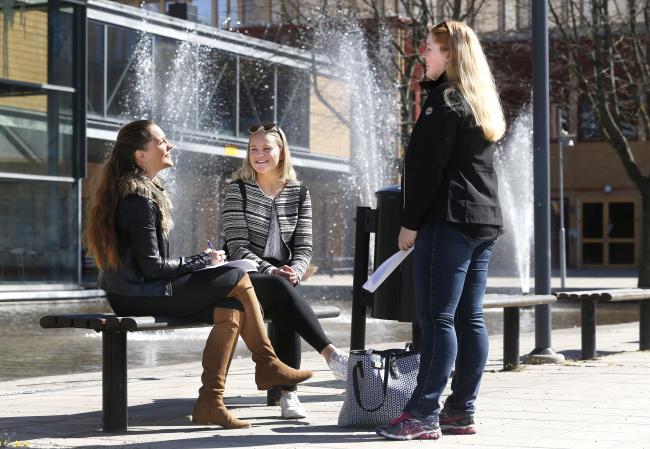 We are a diverse group in terms of approaches – from the sociology of the body, and the sociology of emotions, to the sociology of material culture – but the unifying factor is a passion and curiosity to understand how emotions, personal identities, and intimacies are related to broader social and cultural structures.
The group offers a welcoming interdisciplinary environment for those interested in any aspects of research into personal life. We welcome inquiries from scholars and organizations and potential PhD students whose research interests align with the interests of the group. Please get in touch with the group coordinators for further information.
Group Leads:
Dr. Andreas Henriksson, Director of Studies in Sociology
Dr. Anna Pechurina, Associate Professor in Sociology 
Group Members: 
Professor Emma Engdahl, Professor in Sociology
Dr Satu Heikkinen, Associate Professor in Sociology
Maja Herstad, PhD Candidate at the Centre for Gender Studies
Dr Annika Jonsson, Associate Professor in Sociology
Shahab Mirbabaei, PhD Candidate in Sociology
Dr Liu Xin, Senior Lecturer at the Center for Gender Studies
Events
The group has a lively research culture with regular seminar series and workshops. We bring researchers from across the departments at Karlstad as well as organise events with international scholars. Please contact group coordinators to enquire about the current events programme. 
Current projects
Researchers in the group conduct theoretical and empirical research on topics broadly attuned to challenges of contemporary society, including social change, transnational migration, and the environment.
Topics such as the social conditions of identity-formation and self -realisation; the social transformation of intimacy; the social aspects of body and emotions; and phenomena such as ageing, death, love, trust, depression, and dance have been explored though a range of methods reflecting methodological influences of the sociology of personal life. Further, the research on material culture and homemaking in the context of mobility and migration has offered insights into identity, affect and emotions.
Recent research within the group has also been focusing on transnational relationships, everyday intimacies and Whiteness.
Transnational Bachelors. An ethnography on singledom among migrated men in the European Union
Dr. Andreas Henriksson
Prof Ulf Mellström
Dr. Katarzyna Wojnicka
Dr. Andrea Priori 
The project coins the term transnational bachelors: these are men that as singles relate to several national contexts because they have migrated. The project entails ethnographic studies among four groups of such single men: Bangladeshis and Romanians in Italy, and Syrians and Poles in Sweden. Transnational bachelorhood can look different depending on where the men come from, as well as on attitudes to migration in the receiving countries. We use ethnographic methods to investigate the transnational bachelors. Among these are participant observations, interviews, and document analyses. 
In media reports about single men who have migrated, there are often implicit assumptions about how lonely men without strong connections to their families of origin create particular problems for the countries that receive them, not least because of risks of sexual assaults. When finished, we hope that the project will provide a deeper and more nuanced understanding of transnational bachelors than what is currently provided in media and in research. 
Brotherly relations in the family and beyond. Homosociality, individuality, masculinity
Dr. Andreas Henriksson
In this project, the intersection of non-familial and familial brotherly relations is explored. One question seeks out ways in which the concept of masculine homosociality is related to family, taking it beyond its recurring linking to romantic love. A second question asks how various ideas about brotherhood, particularly skepticism about its merits, inform notions of Westernness and Western individuality. The project draws on critical studies of men and masculinity, as well as the sociology of personal life.
Data consists of interviews with Western and non-Western young men about brothers. The project also includes film and image analyses of brothers and brotherhood. Qualitative and quantitative content analysis and discourse analysis are combined to allow the material to speak to the theoretically informed research questions. 
Continuing bonds as a sociological topic 
Dr. Annika Jonsson
The book with the working title Life with the dead – a sociological perspective explores how the deceased are present, absent present, or mostly absent in the everyday life of the living. The book utilises empirical research conducted mainly in a Northern European context in order to illustrate how people maintain bonds with their deceased to various degrees. These bonds are to some extent formed as part of human relationality, but they are also shaped by culture, religion, power relations, personal biography, and family tradition. It is argued that the positioning of the dead constitutes an important aspect of how individuals, groups, and society as a whole treat the past and create boundaries between then and now, meaningful and meaningless.     
Researching Homes and Migration
Dr. Anna Pechurina
This project has explored the connection between cultural identity and the feeling of belonging among Russian migrants to the UK using home-based semi-ethnographic interviews. But it also looked more deeply into how ideas around home, home-making practices, cultural identity, and sense of belonging can be developed further theoretically and conceptually. In particular, the project considered the role and significance of material objects as a way of approaching complex and ambivalent experiences of migration and related processes of creating memories, attachments, and emotions. In particular, the project explores how certain types of objects can signify and capture these experiences by simultaneously acting as symbols of connection and detachment, or, by reminding people of difficult 'sticky' personal relationships and connections. These themes will be developed as part of the Handbook on Home and Migration (Edward Elgar Publishing) and the edited volume 'Entering Migrants Homes' under IMISCOE Research Series. 
Highly Skilled Female Professional working in Western Academia
Dr. Anna Pechurina
The project 'Buffering Identities' has started in Spring 2020 and is conducted together with Professor Yulia Shymko (of Audencia Business School) and Professor Smaranda Boros (of Vlerick Business School). This project explores the biographies and life experiences of women of Polish, Romanian and Russian backgrounds working in western academia aiming to uncover women's experiences of migration and its impacts on identity. The project fieldwork was conducted in April 2020 and we are currently (spring/summer 2021) working on publishing the results of the study.