Research in public health science
Research at Public health science consists of several strong research groups tightly tied to the community. Research topics include psychosocial health of vulnerable groups children. Environmental exposure and child development is studied in the SELMA-study.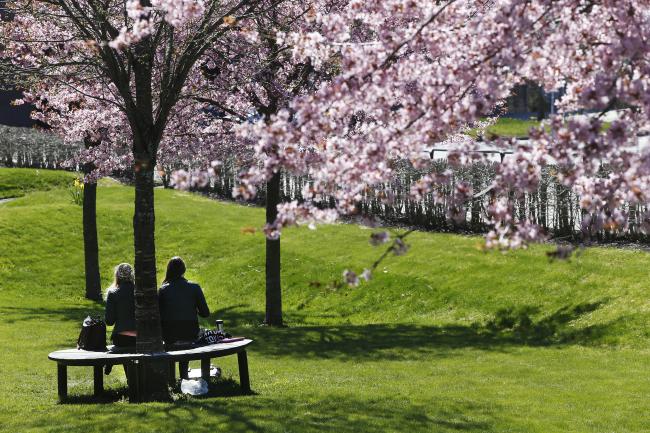 Research groups in public health science form part of the cross-faculty research environment HÄLSA [health], an active collaboration between five different disciplines: biomedical science, public health science, nursing, psychology and social work. The environment is still developing and provides a natural meeting place for everyone interested in health-related research. Public health science also collaborates with different local, regional, national and international actors. Several renowned and experienced researchers are connected to the subject and they produce quality research in their respective fields. Different large studies are currently being undertaken, thus enabling students to work with collected data and creating a natural link between research and education.
The SELMA study
The SELMA study started in 2007 and follows 2 500 mother–child pairs from pregnancy through birth and beyond. The aim is to examine the role played by exposure to chemicals during the early stages of pregnancy in the later development of chronic illness in the children. www.selmastudien.se
Home–Children–Health
The Home–Children–Health (Bostad–Barn–Hälsa) study commenced in 2000. The study involves following over 10 000 children to investigate the role played by environmental factors in the development of chronic illness
Child abuse prevention
The Swedish government have commissioned national mapping of child abuse and studies were undertaken in 2000 and 2006. In 2011 a new national study was started that focuses on parents and children in Year 9.
Children with special needs
Interview-based studies are done with the objective of increasing knowledge about how parents with children with special needs organise their everyday lives as regards the professional support offered children and parents. In-depth interviews have been conducted with parents and focus group interviews with professionals.
A healthier future
A healthier future (FRISKARE FRAMTID) was launched in 2015. The main aim is to investigate methods of preventing chronic lifestyle-related disease and stimulating health-promoting lifestyles.
Nationally and international there is much demand for innovative solutions and organisation models that can facilitate health-promoting lifestyles for target groups at risk of developing chronic disease. This project is based on a partnership model involving The Health promotion in Värmland (Friskvården i Värmland), the Värmland county council and municipalities in Värmland. Through participatory action research, partners and participants are involved as co-developers of organisational solutions. The project has three phases:
Phase 1 aims to examine and develop a national partnership model for health-promoting lifestyles on equal terms. Experts, decision-makers, partners, participants and employees have been involved and they contribute to developing the social value of the partnership model through focus groups and a forum for value creation.
Phase 2 aims to study experiences of the A healthier future (FRISKARE FRAMTID) partnership model for health-promoting lifestyles on equal terms through in-depth interviews with participants. The focus falls particularly on physical activity on prescription (FaR) and on health coaching based on motivational interviews.
Phase 3 aims to study effects on individual as well as systemic levels. (Data collection for phases one and two has been completed and results are to be presented in 2016.) 
Contact: Dr Helene V. Hjalmarson, public health science, helene@kau.se
Research is done in collaboration with sports science at Karlstad University.