Research project "Sámi Trail of Tears Walking Trail" presented at Cape Town conference
2023-05-09
Richard Ek, professor in human geography at Karlstad University, tell us about the Indigeneity and Visual Sovereignty conference held in Cape Town 27–28 April 2023
- The conference theme was "visual sovereignty", which includes ways for indigenous communities around the world to have ownership and control of for instance materials and photo archives that depict their history, culture, language, and identity. This theme can be further linked to important research subjects in anthropology, especially in light of the continued marginalisation of indigenous communities and their subjection to cultural stereotyping and outright racism.
How did your project, "Sámi Trail of Tears Walking Trail", suit the theme of the conference?
- Our project addresses all the issues and subjects mentioned above, but with an imagined walking trail as a physical manifestation and concrete meeting place for discussions. One possible topic could be how the Sámi, and other minority cultures like the Tornedalians, can safeguard their land as mining operations once again kick into high gear and the green industry transition is concentrated to northern Sweden through initiatives like hydroelectric power expansion. One question is whether a digital companion for the trail could guarantee the cultural minorities involved control over their material.
What sort of feedback did you get at the conference?
- It was very positive, with lots of questions and ideas. The colonial history of the Sámi is similar to that of the indigenous population in, for instance, the Kalahari Desert (forced displacement and marginalisation), even though the Kalahari Desert and Sápmi are very different places. Sweden is still held in high regard in South Africa because it was one of few countries that openly supported the ANC during apartheid in the 1970s and '80s.
Networking is a common conference activity. Did you make any interesting new contacts?
- We have approached researchers from several universities, as well as Paul Weinberg, a renowned photographer in South Africa. He has spent a lifetime documenting the San people in the Kalahari Desert and has vast experience discussing morally difficult issues connected to trauma, marginalisation, and atonement in relation to tourism development projects. The conference was held at a centre that is run by the San people, and the profits go to various social reforms that will benefit the San people. Just observing how that tourism centre operated was really helpful to us.
What is next for the "Sámi Trail of Tears Walking Trail" project?
- We have a field trip to Australia coming up. We will then spend the last year working exclusively in the eastern part of Swedish Sápmi on a walking trail between Lannavaara and Lainio.
Also in attendance at Indigeneity and Visual Sovereignty were project partners Åsa Andersson and Janne Sirniö, who have taken the photos.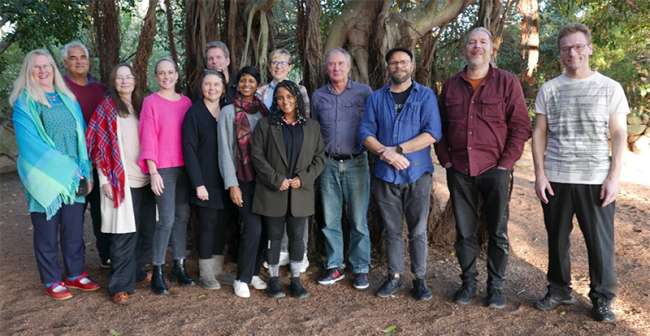 Konferensdeltagare på stranden i Kapstaden.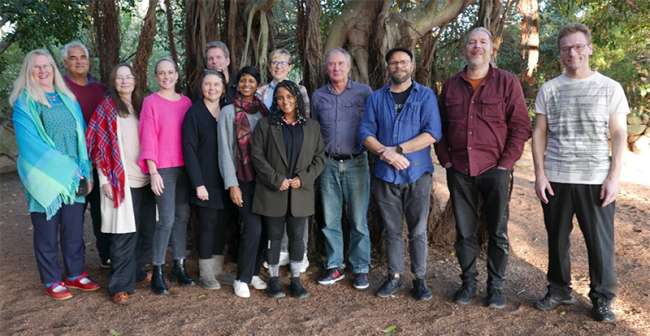 Konferensdeltagare på stranden i Kapstaden.