Mohsen Memarian is researching in making future mobile services sustainable
2023-11-15
Efficient connectivity to mobile and digital services is crucial for numerous societal entities worldwide.
The DRIVE project aims to investigate how latency-sensitive mobile services can be designed in the most optimized, secure, and energy-efficient way possible. Progress in this research area is crucial for many societal functions, such as autonomous driving, autonomous manufacturing, smart energy solutions, and remote surgery. The objective is to contribute to a sustainable digitization of society where delays and energy consumption are minimized.
Helping companies find innovative solutions
The collaboration between Karlstad University and seven partner companies is at the core of the project, where each partner contributes their perspective. PhD student Mohsen Memarian is involved in the project and conducts research on the underlying causes of delays.
– In our work, we collaborate with companies and assist them in solving real problems, which can sometimes be a significant challenge. In my case, I have worked with Ericsson and Tieto Evry as they want to seek the help of researchers to analyze or find innovative solutions, he says.
Mohsen moved to Karlstad from Tehran in June 2023 and explores how programmable data planes can accelerate packet processing at scale.
– This will help to significantly increase the processing capacity of the mobile packet core network while at the same time making it more energy efficient, reduce the forwarding latency without compromising the flexibility. The ultimate goal is to combine the benefits that a software based solution has with the speed and performance of hardware based approaches.
The DRIVE project is divided into four sub-projects, with Mohsen Memarian's research being part of sub-project 1: Programmable and secure connectivity, led by Professor Andreas Kassler. The goal of the research is to use programmable networks to flexibly enhance the performance of mobile networks and services, including traffic analysis, while supporting a diverse set of programmable hardware. The overarching research question is how to achieve the desired hardware performance while maintaining programmability and flexibility.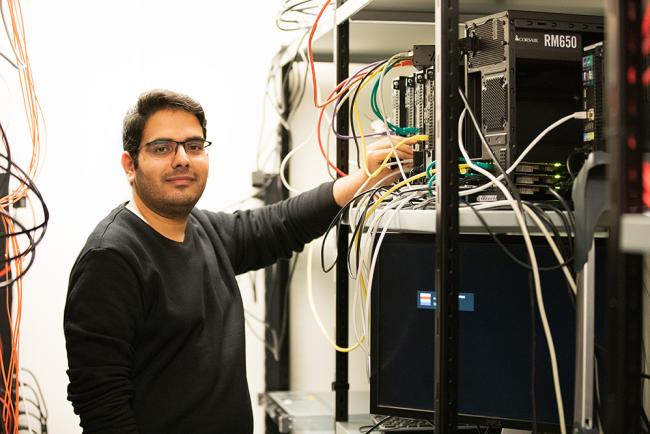 Mohsen Memarian in his laboratory.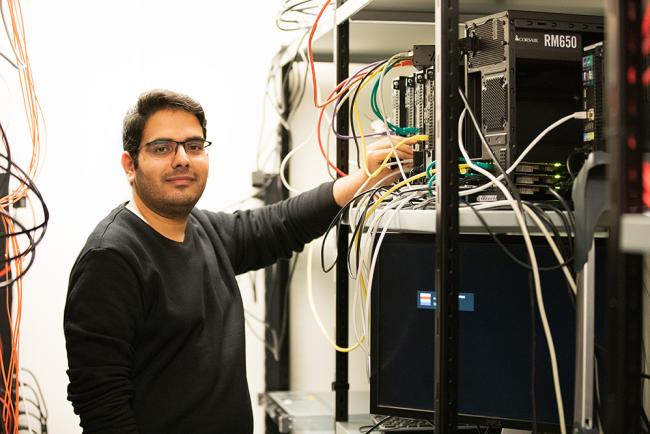 Mohsen Memarian in his laboratory.