Green bio-oil may come from an unexpected place
2021-10-01
We receive district heating and electricity from cogeneration plants (also known as combined heat and power plants). In the future they might also produce bio-oil, which can be used as biofuel or replace fossil oil in the chemicals industry. According to a new study, Sweden's combined cogeneration plants have the potential to produce more than 20 percent of the current energy requirement within the transport sector.
- In this study, I have examined how to workup the bio-oil for a broader usage, says Jörgen Samuelsson, Associate Professor in Chemistry at Karlstad University. It's about examining the oil and improving its physical properties for other applications.
In order to meet Sweden's ambitious climate targets for the years 2030 and 2045, we need increased amounts of liquid biofuel for the transport sector. The chemicals industry also need alternatives to the fossil oil used today.
The potential for Swedish biofuel is dominated by by-products and residual products from the forest, such as sawdust and branches from logging. To convert wood into a liquid in an efficient manner is challenging, and the need for liquid biofuel has consequently been met through import.
Decreased need for heating
At the same time, Sweden's cogeneration plants are looking for new ways of being useful, as the need for district heating of homes is decreasing as a consequence of both climate change and the fact that new houses have better insulation.
Against this background, researchers in Chemistry as well as Energy and Environmental Technology at Karlstad University and Lund University have, together with the public utility company Kraftringen in Lund, spent the last two and a half years examining a potential further development of the cogeneration plant in Örtofta, just outside of Lund.
Wood chips become oil
In a cogeneration plant, wood chips or other raw materials are burned in a boiler that heats up water. The steam is then fed into a turbine, which in turn generates electricity and district heating.
As the need for heating is decreasing at a time when a domestic production of bio-oil would be beneficial to Sweden, could the cogeneration plants also be used to produce bio-oil from wood chips? The answer is yes.
- According to our tests and calculations, cogeneration plants could produce large amounts of domestic bio-oil to replace fossil oil, both when it comes to heating and within the transport sector. Just the plant in Örtofta can produce enough bio-oil for 0.7 TWh each year. Compare this to the fact that the usage of Swedish biogas within the transport sector is 1.1 TWh.
The process they have studied is called pyrolysis. This means that the biomass is heated quickly and condensed into a liquid consisting of a mixture of carbon chains, just as in fossil oil.
- In this study, I have performed modelling and calculations, says Christer Gustavsson, Senior Lecturer in Energy and Environmental Technology at Karlstad University.
Could double the amount of biofuel
In Sweden, there are almost one hundred cogeneration plants with similar conditions. Consequently, these could potentially start producing pyrolysis oil in the same way.
In terms of energy, such a production could produce 20 TWh worth of bio-oil 20, which is more than the Swedish biofuel import for 2019, which was 18 TWh. The total energy consumption within the transport sector that year was 90 TWh.
Pilot study is the next step
Kraftringen is now moving forward with examining the possibility of them starting a production of pyrolysis oil.
- This is an incredibly exciting project that seems to have huge potential, says Peter Ottosson, project manager at Kraftringen.
- There are several beneficial synergies in implementing the production of pyrolysis oil in our existing production process in Örtofta. We are currently planning for a pilot study and we hope to be able to come to a decision on this matter during the autumn of 2021.
Companies on the forefront, that invest in new technology before everyone else, are taking financial risks.
- This is why both Sweden and the EU have an innovation support for those willing to take these risks, says Lovisa Björnsson.
Integrated production
The company Pyrocell in Gävle has one of the first commercial manufacturing plants for production of pyrolysis oil for biofuel, where sawdust from the wood product company Setra is transformed into pyrolysis oil, which is then in turn refined further at Preem's refinery in Lysekil.
- The fact that this is happening in Sweden is very exciting, and we are keeping an eye on this development. To include pyrolysis in an existing cogeneration plant, as would be the case in Örtofta, would have the potential for an even better process, both in terms of energy production and for the climate.
The project is a collaboration between Lund University and Karlstad University, and it is financed by the Swedish Energy Agency and Kraftringen Energi AB.
You can read the report here Bio-oil from existing cogeneration plants
The report was presented at a webinar, available here https://www.kraftringen.se/pyrolys/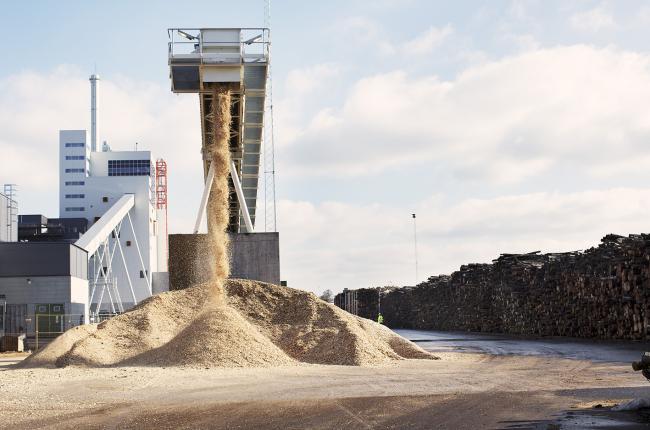 Photo: Mads Armgaard
Kraftringen Örtofta.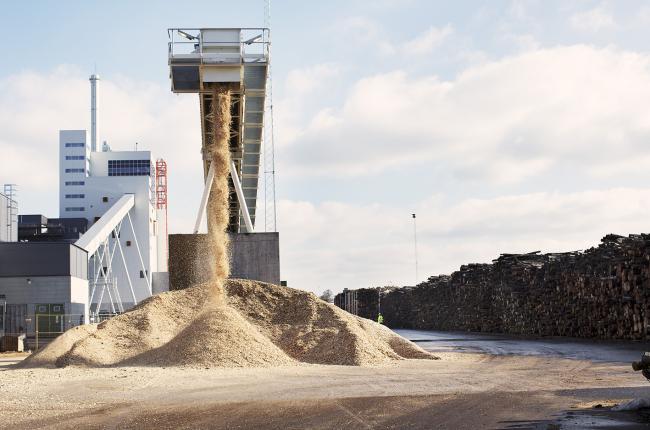 Photo: Mads Armgaard
Kraftringen Örtofta.