Geomedia Higher Seminar
2023-05-08
Setting the Scene: Academic interventions in the media and tourism industries with our guest professor Stijn Reijnders at the Erasmus University, Rotterdam. 
Title
Setting the Scene: Academic interventions in the media and tourism industries
Abstract
This presentation focuses on media tourism: the phenomenon of people travelling to places associated with films, TV series or other forms of popular culture. Once a grassroots, fan-based activity, media tourism has gradually evolved into a multi-million-dollar industry, with far-reaching and sometimes problematic implications for the related locations. While the number of studies on the effects of media tourism has grown, little research has been done into what causes this phenomenon. Media tourism does not simply emerge from nowhere, but results from the active engagement of two massive industries: the media and tourism sector.
Moreover, governments are increasingly investing in attracting popular media productions in order to promote their own place in the global tourist market. However, they often have little idea about the effectiveness of their investments and the sustainability of their practices. Thus, the principal question is: How do the media and tourism industries contribute to the rise of media tourism and what kind of governmental policies are in place or can be developed in the future to steer these processes in a sustainable and inclusive direction?
In this presentation I will further explore these questions, and show how we want to tackle these issues in two upcoming research projects. In these projects we aim to move beyond the confines of academic debate and critically intervene in the production practices of the media and tourism industries.
When
May 23, Minerva, Karlstad University
Time
13.00 – 14.30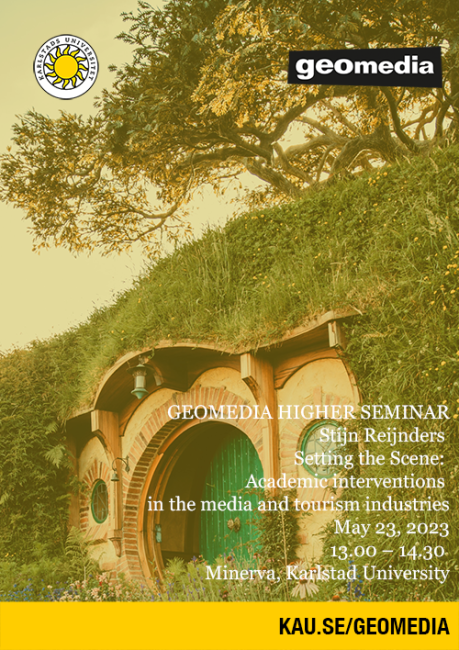 Setting the Scene: Academic interventions in the media and tourism industries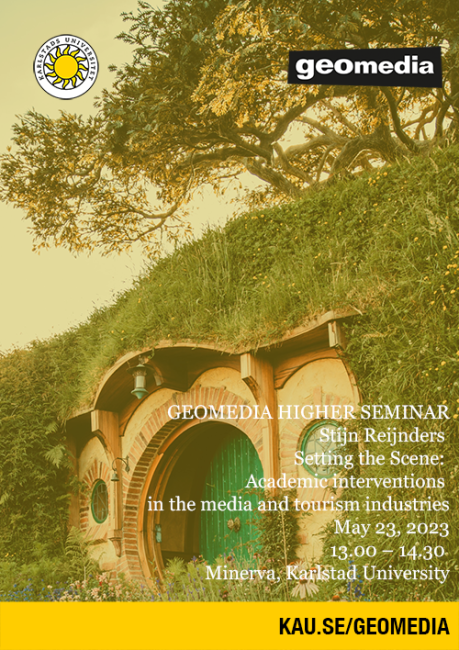 Setting the Scene: Academic interventions in the media and tourism industries