CTF blog: Getting creative with what you have: A bricolage view of innovation
2023-08-14
Where do you start with innovation? Typically, with a goal in sight – a pre-defined outcome. From here you can forecast what you need to get there; search for, select and invest in the most suitable skills, technology, and other types of resources in a step-by-step manner. This is a conventional causal decision-making style for firms. Conversely you can start with what you already have – existing means – and then creatively work out potential outcomes with these. This is bricolage. Making new value out of what you have. The term derives from the French term, meaning Do-it-Yourself. You may have seen the D-I-Y shops in France.
Bricolage innovation strategies have the following characteristics:
Resource substitution: Resource limitations are seen as an opportunity not as a constraint. Firms refuse to be put off by conventional limitations of what is an appropriate resource for a given task. Non-standard inputs replace the standard resources that would normally be deployed to address the same challenge. This requires creativity, novelty seeking and strong improvisation skills. For example, a firm might use salvaged materials creatively as a workable replacement for standard resources.
Resource combination: Firms make creative use of what is available. This may mean adjusting the outcome to be compatible with available resources or creatively combining resources at hand. Take the example of a firm producing steel products. Here the owner combines its employees' idle time and spare equipment capacity to manufacture a pneumatically suspended stirrup for horse riding – a very creative addition to the firm's traditional steel business.
Role shifting: In bricolage firms restructure their activities. They shift roles, reorganize routines and reassemble the work. This enhances learning and the development of different types of knowledge to enable and support creative resource combination.
Contingency exploitation: A key facet of bricolage is the exploitation of opportunities as they come along. This requires a strong external-facing strategy, such as attending external workshops to meet key talent or getting new ideas from customers. This compares with more causal planned behaviour of conducting formal market research. For example, a hotel advertises for a cleaner. A hairdresser with no job applies for the cleaning role. The hotel manager takes advantage of her hair styling talent and sets up a salon in an unoccupied room. This new service was not predicted.
Bricolage has historically proven appealing to small entrepreneurial firms or firms in developing economies, where resources are scarce and frugal innovation is at the fore. However, this means-driven approach has also recently been adopted by larger established firms, such as Ericsson and Airasia Group. This has been achieved through simulation of bricolage conditions, for example. It induces agility and supports adaptability to largely unpredictable changing market conditions, such as the pandemic and digitalization. Bricolage is particularly suitable for service markets, where resource reconfiguration is realisable *.
What are the downsides of bricolage? Recent studies have examined the negative effects of bricolage. As bricolage concerns 'making do' by using non-standard resources, the resultant innovation can be a second-best solution. Creativity around resource combinations stops as soon as the solution does it job. This is termed satisficing. There is a gap between the performance of the bricolage solution compared with the solution using standard resources. As it is the firm itself that defines what is good enough (rather than the market) levels of acceptability may vary. Consequently, bricolage solutions can be quite fragile and unreliable, and firms need to embark on a fixing and tinkering process. Some researchers call this a layering of compromised solutions. Another danger is parallel bricolage. Bricolage puts much emphasis on exploitation of pre-existing relationships. Using the same relationships (eg. with employees, customers) repeatedly can result in embeddedness constraints. For example, being locked into customers who cannot pay for higher grade services can impede firms from serving more demanding customers and innovating to do so.
How do firms circumnavigate such dangers? Some researchers suggest using bricolage selectively or episodically to hold back the build up of compromises. Recent work takes a more nuanced view and examines boundary conditions of bricolage, such as growth stage of the firm or competitiveness orientation. For example, firms with low growth expectations see advantages of resource replacement in early stages but view bricolage as a coping mechanism not as a means of growth. It seems that growth-oriented firms benefit most from a bricolage strategy because they shift from coping to advantage seeking. Emergent research puts attention to the dynamics of bricolage-based innovation. Firms might use bricolage decision-making early on in a trial and error learning stage, allowing the emergence of a value proposition, but deploy more goal-oriented approaches later as the value proposition is crystallized.
In sum, bricolage is a powerful notion explaining how firms cope with costly innovation and get by in resource-constrained environments. These are typically encountered by early-stage new ventures and firms innovating in developing economies. Yet, it is not always the magic bullet for success and can be detrimental through the development of compromised innovation solutions. However recent work sheds light on a more nuanced understanding of the conditions underlying bricolage behaviour and this lays the ground for novel interesting future research avenues.
Helen Perks
Visiting Professor at Service Research Center (CTF) at Karlstad University
Based on presentation at "Tjänsteinnovationsdagen", June 2023
Reference
*Please see A Bricolage Perspective on Service Innovation, Witell L., Gebauer H., Jaakkola E., Hammedi W., Patricio L., Perks H., Journal of Business Research (2017). Oct, vol 79, 290-298.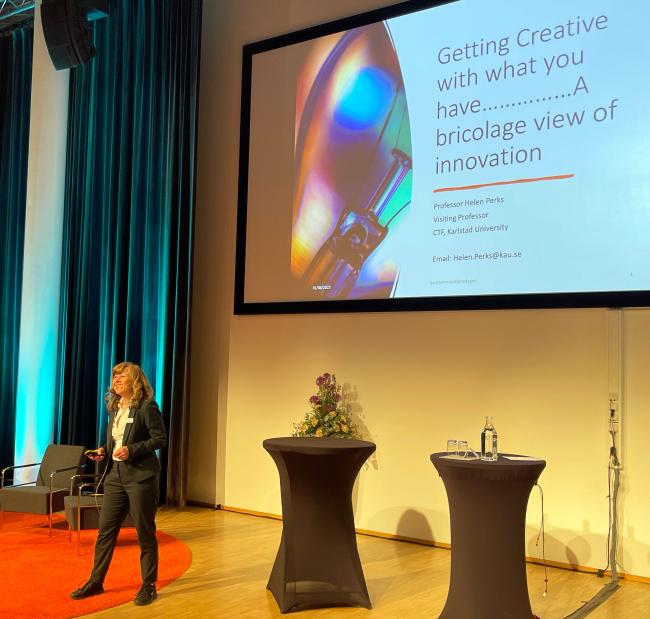 Helen Perks at Tjänsteinnovationsdagen June 1, 2023 at Karlstad CCC.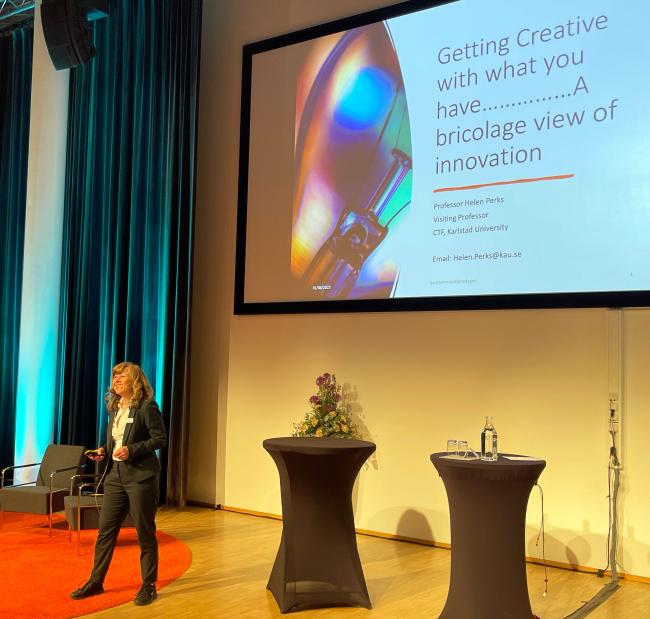 Helen Perks at Tjänsteinnovationsdagen June 1, 2023 at Karlstad CCC.