CTF at the 2017 Frontiers in Service Conference
2017-07-03
June 22-25 researchers from CTF participated in the 2017 Frontiers in Service Conference. The conference was hosted by Fordham University, Gabelli School of Business, New York, USA, and attracted more than 350 service researchers and business leaders from around the world.
Every manager and every researcher need to understand the rapidly changing needs of customers. Understanding what works, what doesn't, and most importantly, what's next is the only way to ensure success. The 2017 Frontiers in Service Conference brought the world's leading managers and academic researchers together to prepare for what tomorrow brings.
2017 SD-Logic Award
CTF was awarded with the "Service-Dominant Logic Award" at the conference.
Per Kristensson, Director of CTF, explains that he and the whole group of CTF researchers are very proud and happy about receiving the prize:
– Throughout CTFs existence we have been viewing service in terms of a process rather than as a type of process. The work we do is therefore many times fitting well with the ideas around the service-dominant logic.
The S-D Logic Award was established by Robert Lusch and Stephen Vargo to recognize the contributions of individuals that have worked to advance the theory and practice of S-D Logic.
AMA Servsig doctoral consortium 2017
PhD Students from CTF also participated in the AMA Servsig doctoral consortium preceding the 2017 Frontiers in Service Conference. The consortium is designed to help doctoral students and new faculty succeed in their careers. By promoting an intimate and collegial atmosphere, the consortium provides a wonderful opportunity for participants to interact with the field's leading service scholars and also get feedback from them on research.
CTF papers presented at the conference
Jasenko Arsenovic, Bo Edvardsson, Thorsten Gruber, Bård Tronvoll and Maria Åkesson Exploring the black box of service co-recovery Encounters
Kotaiba Aal, Linda Nasr, Wafa Hammedi, Bård Tronvoll and Ray Fisk Exploring the role of conflict in the transformation of service ecosystems
Linda Bergkvist and Carolina Camén Service innovation in outsourcing business relationships – prerequisites for enabling value creation
Per Echeverri and Nicklas Salomonson Uncovering the reciprocal mechanisms of embodied value co-creation: turn-taking and multimodality
Margareta Friman and Mark Rosenbaum Exchanged service resources and subjective well-being
Jenny Karlsson and Linda Bergkvist Service innovation implementation in healthcare – enablers and inhibitors
Josina Vink, Kaisa Koskela-Huotari, Per Kristensson, Per Skålén and Annita Fjuk Reflexive practice as an enabler of service innovation
Josina Vink, Bård Tronvoll, Bo Edvardsson and Katarina Wetter-Edman Reshaping mental models through service design to foster service innovation
Maria Åkesson and Nina Löfberg Expanding the joint-sphere of value co-creation through the use of remote services
Frontiers
Founded in 1992 by Roland Rust, the Frontiers in Service Conference is the world's leading annual conference on service research. The conference has a very global nature, and generally draws attendees from 35-40 countries or more from around the world. The conference draws a lively mix of both academics and practitioners, from a variety of backgrounds and functional disciplines. The conference is sponsored annually by INFORMS, the American Marketing Association, and the Center for Excellence in Service at the University of Maryland, and is hosted by various organizations worldwide. Next year's conference is hosted by Texas State University in Austin, USA, on September 6-9, 2018. For more information: frontiers2017.com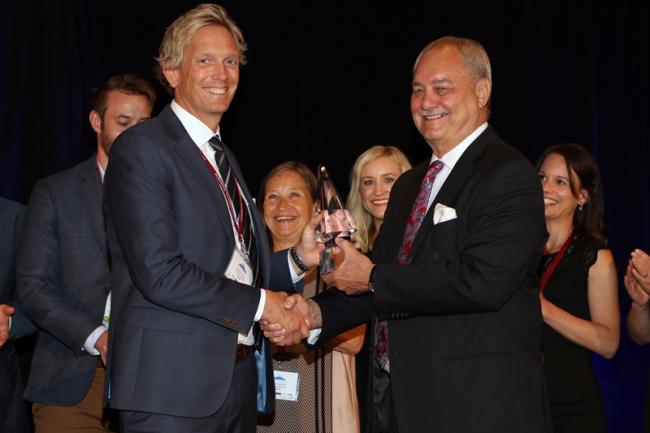 Per Kristensson receives the SD-Logic Award from Stephen Vargo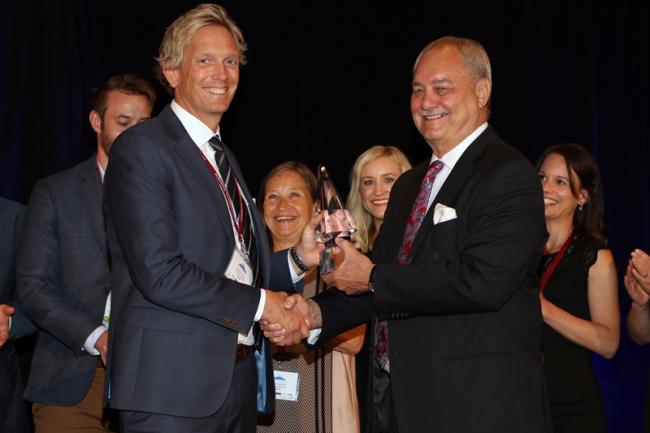 Per Kristensson receives the SD-Logic Award from Stephen Vargo