A book about journalistic autonomy wins prestigious award
2023-06-02
Henrik Örnebring and Michael Karlsson, both professors in media and communication studies, have won the 2023 Tankard Book Award.
Tell us about "Journalistic Autonomy: The Genealogy of a Concept", your co-authored and award-winning book.
- Independence, or autonomy as we refer to it in the book, is a key ideal in journalism, says Michael Karlsson. That is true in Sweden as well as abroad.
- We try to answer the questions of where that ideal comes from, and what specifically it is that journalism should be independent of, says Henrik Örnebring. The book is related to the history of ideas in the sense that we chronicle the history of the idea that journalism should be autonomous. We start with the 17th and 18th century debates on the freedom of the press and go all the way to the contemporary era of algorithms and a polarised media landscape.
What has the international reception for your book been like?
- It received positive reviews in a couple of academic journals, and we know that it has already been cited by other researchers, says Henrik Örnebring. So honestly, we already felt like it had been received as well as we could have hoped. Winning this award is far beyond any of our expectations. It means that a jury of internationally seasoned scholarly experts found our book the most important, despite strong competition.
What do you think it adds to media and communication and journalism as research domains?
- Autonomy is a key concept in journalism and journalism research, and it is often used to argue for or against something, Michael Karlsson explains. But almost no previous research has included an in-depth dissection of the concept and its origins to highlight the inherent tensions in it. For example how journalism's separation from state control led to dependence on political parties. Later attempts to gain independence from those were instead followed by dependence on advertisers and a paying audience. In short, the book expands and sheds new light on a central concept that many take for granted.
European researchers were previously nowhere to be found on the list of Tankard Book Award winners. Why do you think your work has captured the jury's attention?
- Besides the contribution to general theory, we purposely focused on American journalism, albeit with many comparisons to other countries like the UK and Sweden, says Henrik Örnebring.
- We think that our quite extensive knowledge about journalism in the US and its history coupled with our outsider's perspective is pretty unusual in American journalism research. So that makes our work stand out, says Michael Karlsson.
The award will be presented in Washington, D.C., by the AEJMC (Association for Education in Journalism and Mass Communication) in early August. Will you be there in person?
- I will attend and accept the award on behalf of both of us, says Henrik Örnebring. I was planning to attend the conference anyway to present a paper, which is a chapter from an upcoming book. When one book ends, another begins. Such is life in academia.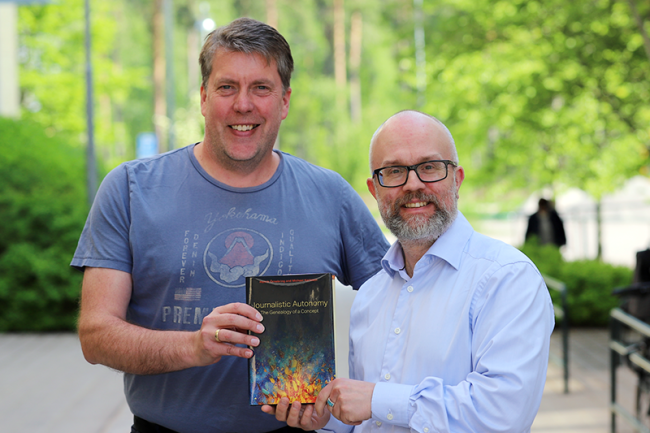 Michael Karlsson och Henrik Örnebring, båda professorer i medie- och kommunikationsvetenskap vid Karlstads universitet.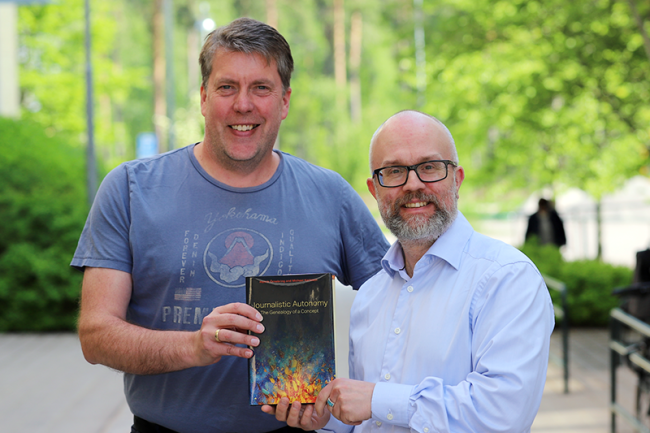 Michael Karlsson och Henrik Örnebring, båda professorer i medie- och kommunikationsvetenskap vid Karlstads universitet.