Save the date for Ingesund's 100th anniversary
2023-09-18
Ingesund School of Music, originally known as Ingesund Folk Music School, is celebrating its 100th anniversary this year. In honour of this big occasion, there will be two jubilee concerts on 13 and 14 October.
The founder of the Ingesund schools, the legendary Valdemar Dahlgren, established Western Värmland Folk High School (which later turned into Ingesund Folk High School) and the Folk Music School (Folkliga musikskolan) in 1923 with 35 participants from ten different counties. Over the years, this resulted in a music teacher training programme, including public music teaching and music teaching offered to pupils as extramural school activities.
The first examination for music teacher students was supervised by invigilators appointed by the Royal Swedish Academy of Music. The school also introduced pedagogical training with a specialisation in string instruments as well as guitar. The Folk Music School eventually turned into a university college under Värmland County Council in 1978, until it became a department of Karlstad University in 2002.
The academic offer of Ingesund School of Music has expanded over the years with a wide range of specialisations. In addition to the music teacher programme, Ingesund also offers a music production programme, a music programme at undergraduate level and, as of this autumn semester, a music programme at Master's level, which is the highest education level in higher music education in Sweden. In the near future, students will also have the opportunity to study for one year in the form of an Artist Diploma to further their skills as a professional musician. The diploma is especially well-suited for international students who want to study at Ingesund. Another new addition is the Interpretation Year – a Master's level programme aimed at students with a bachelor's degree in music who want to advance in their studies towards a professional career as a musician.
Jubilee concert with a broad repertoire
The celebrations of the 100th anniversary will culminate in a jubilee concert where Ingesund presents its students, teachers and guest artists. In addition to classical music, folk music and jazz, the concert also offers electronic music production. Ingesund Symphonic Orchestra, conducted by Ingesund alumnus Johannes Gustavsson, is the jubilee concert house band.
Ingsund School of Music also welcomes guest artist and opera singer Malena Ernman, former Ingesund student. Her long and wide-ranging career spans everything from opera to pop music.
When Ingsund School of Music celebrated its 40th anniversary, the Swedish composer Ingvar Lidholm wrote a piece in honour of the school – Nausikaa Ensam. Malena Ernman will perform the piece together with the symphonic orchestra and a choir, which opens with a newly written overture by composer Mats Larsson Gothe, another Ingesund alumnus.
The concert also welcomes Eva Coyle, former exchange student from Ireland, who will sing and play melodeon and piano together with Ingesund's folk music student.
An ensemble consisting of jazz teachers has also been formed especially for the jubilee concert. They will, among other things, perform a new piece by Klas-Henrik "Klabbe" Hörngren, teacher of piano and ensemble play in the jazz genre.
The concert on Friday, October 13, is at 19.00 and open to the public. Tickets are available on tickster.com
The concert on Saturday, October 14, is at 16.00 for invited guests, staff of Ingesund School of Music and Ingesund veterans.
Any available seats will be announced on tickster.com
Students are invited to attend the dress rehearsal on Friday, 13:00, for free.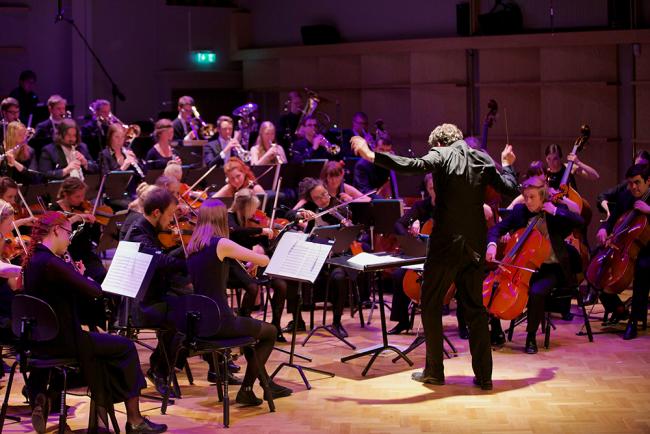 Ingesund Symphonic Orchestra, conducted by Ingesund alumnus Johannes Gustavsson, is the jubilee concert house band.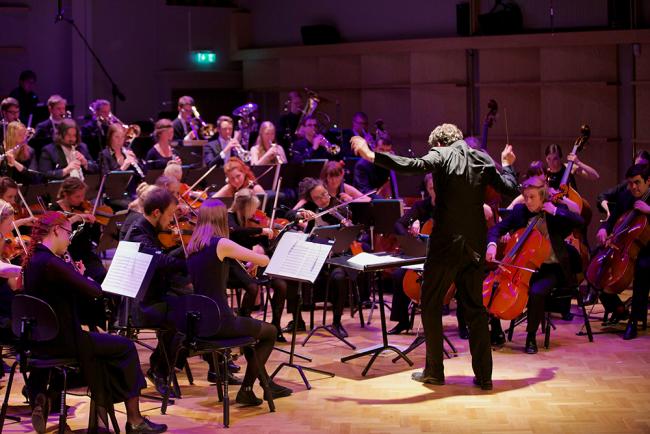 Ingesund Symphonic Orchestra, conducted by Ingesund alumnus Johannes Gustavsson, is the jubilee concert house band.