Information desk - help with searching and referencing
APRIL 2020: the information on this page is not up to date with the limited service and opening hours at the library due to the outbreak of covid-19. For contact and opening hours see menu on the right side of the web page.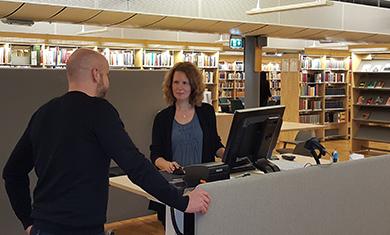 The staff in the Information desk can assist you with loans and help you to search information, articles, books, magazines and more. You can also get help with questions about evaluation of sources, plagiarism and referencing.
There is one Information desk on floor 2 and one on floor 3. You can turn to either one with your questions, but they have different opening hours and some services like picking up ordered material, can only be done on floor 2.
Staffing
The Information desks on floor 2 and 3 are staffed by regular staff on Monday - Thursday 8-17 and Fridays between 12 to 16.  Other hours the Information on floor 2 is staffed with student workers.
INFORMATION DESK floor 2
 
INFORMATION DESK floor 3
Opening hours
Mon - Thurs: 8 - 20
Fri: 8 - 16
Sat - Sun: 10 - 15
 

Opening hours
Mon - Thur: 8 - 17
Fri: 12 - 16

Phone: 054 - 700 1092
E-mail: bibdisk@kau.se
 
Phone: 054 - 700 1091
E-mail: bibinform@kau.se