Library newsletter to researchers
Would you as researcher like to receive news and tips on the library's resources, publishing issues, open access, copyright and more?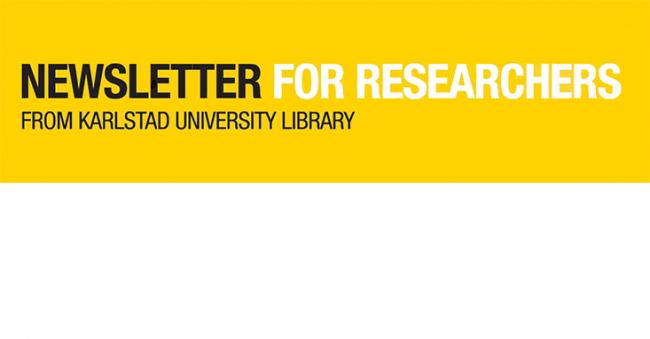 Then please sign up for our newsletter: NEWSLETTER FOR RESEARCHERS from Karlstad University Library. The letter is distributed by mail four times a year and it is free of charge.
Subscription and newsletter archive
Personal data processing
Karlstad University Library provides services and support, and disseminates research information to researchers affiliated with Karlstad University. To inform Karlstad University researchers about these services, the library distributes a newsletter called NEWSLETTER TO RESEARCHERS from Karlstad University Library. You receive the newsletter if you are a researcher affiliated with Karlstad University, if your employment at Karlstad University benefits from our information, or because you have chosen to subscribe to the newsletter. The newsletter is distributed via MailChimp, a cloud service outside of Karlstad University, with head quarters in the U.S. A data processing agreement with MailChimp governs the processing of personal data transferred from Karlstad University to MailChimp. To administer the distribution list we treat your personal data in accordance with the EU General Data Protection Regulation. If you are employed by Karlstad University we handle your name, email address and professional title. If you are not affiliated with Karlstad University we handle your email address. The information we keep on you is handled so that no unauthorised individual can access it. At any time you have the right to receive information on what personal data we keep on you.