9. A seat when studying
The Library study environment is characterized by openness, choice and flexibility.
We are continuously working towards a safe study environment.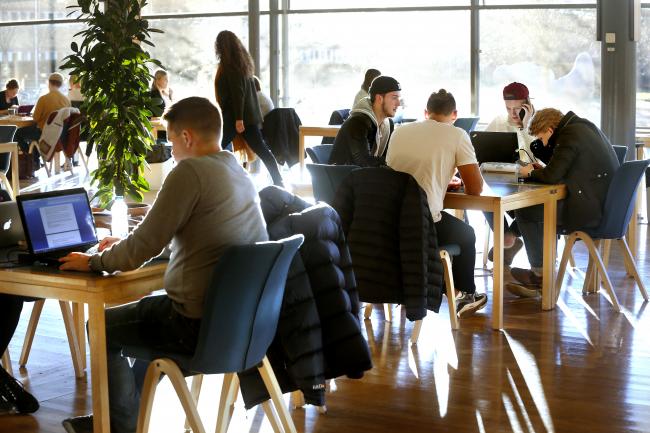 You may use the library to study, use one of the Library's computers or your own, work in a quiet, secluded environment or visit one of the open working areas.
Study seats - there are 1 200 seats spread out on the four floors. 

Group work spaces - there are desks distributed among the shelves on the 2nd, 3rd and 4th floors. Desks can also be found in the Reading room.

Study rooms of various sizes and with different equipment are available for small groups.

Study cells on the 1st floor are intended for individual studies and not for group work. The 1st floor is a silent floor.

Computer working spaces - workstations are available on floors 1-3. You don't have to to book a computer working space.

The Reading room is an open area on the second floor (ground floor) that you may use even after the Library is closed. To get access when the Library is closed you need your KAU card.

Silent reading rooms are located on the 2nd and 3rd floors.

Quiet floor - The 1st floor of the Library is a silent floor and is dedicated to individual study. Please be considerate and turn off your mobile phone when you are working here.

The Resource room The Library Resource room on the 2nd floor has adapted computers to facilitate studies for students with visual impairments or dyslexia. There are also adjustable desks for physically disabled students.