The Library Building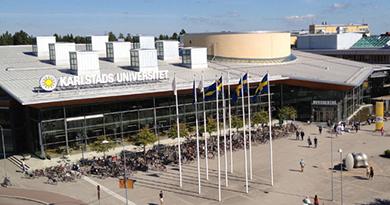 Värmland's mountains, forests and water
The building was inaugurated in 2002. Its architecture is intended to echo Värmland's mountains, forests and water. The building materials that have been used include glass, stone, brick and wood.
Library, Aula Magna & main entrance
The building houses the Library, the University's main entrance, Aula Magna, the Welcome Centre and Café Selma. Aula Magna has 600 seats, of which 200 is on a gallery. It is used for lectures as well as concerts. 
The Library
The Library is built over four floors and can be accessed directly from the entrance hall where the reception and café are also located as well as from floor 3.
The inside of the Library is dominated by a big open room with shelf space for books and journals, reading places, computer working spaces and group rooms. All the material is placed on open shelves and can be accessed directly. The flight of stairs next to the curved wall of the Aula is only one of the staircases connecting the different floors.

The interior of the Library gives rise to a flexible environment and some reading places have been made between the shelves, to create "rooms" within the main hall.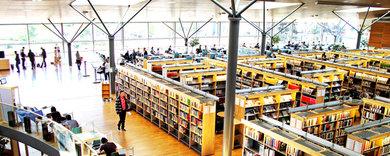 About the Library building
2000-03-29: The first spade was dug
2001-10-01: The building was ready for occupation
2002-01-01: The building is taken into use
2002-01-22: Inauguration
 
Total building costs: ca. SEK 180 million
Total building area: ca. 13 500 m2
Total floor space: ca. 10 500 m2
Total Library floor space: ca. 5 700 m2
 
Building proprietor: Akademiska Hus AB, Gothenburg
Project leader: Bertil Persson
Architect: Christian Frisenstam, White Arkitekter AB, Gothenburg
Interior designer: Torbjorn Windseth, AB Jacobson & Widmark, Umeå
General contractor: PEAB Sverige AB