Våldsam köttkultur
This project investigates the representation of animals, violence against animals, and meat eating in various media, from literature to film, computer games, and metal music.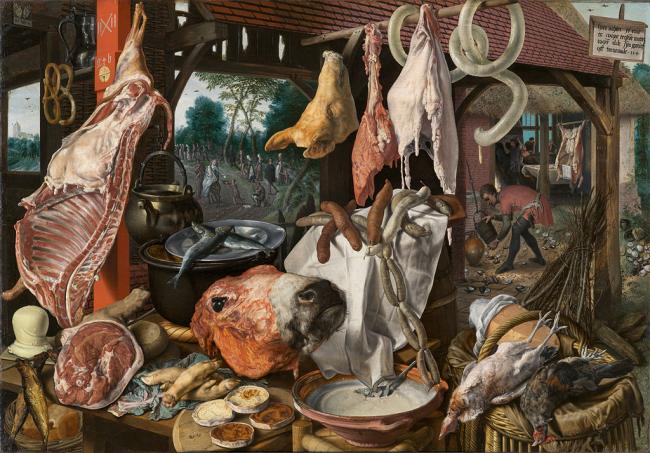 Photo credit
Pieter Aertsen, Public domain, via Wikimedia Commons
Why are people more upset by the killing of one animal on film, than the billions killed every year in industrial agriculture? How can the violent imagery of extreme metal be used to argue for veganism? How does the game mechanics of a computer game draw the line between eating animals and eating people? The project is carried out by Erik van Ooijen, Associate Professor of Comparative Literature.
Publications:
van Ooijen, E. (2021). Beröring och begränsning : Om gränssnittet mellan djur och människa. Tidskrift för litteraturvetenskap, 51(1–2), 172–184. https://doi.org/10.54797/tfl.v51i1-2.1750
van Ooijen, E. (2019). Hunting, killing, crafting : On the use of animals in open world games. Human IT, 14(3), 26–47. http://urn.kb.se/resolve?urn=urn:nbn:se:oru:diva-80884
van Ooijen, E. (2018). On the Brink of Virtual Extinction : Hunting and Killing Animals in Open World Video Games. Eludamos - Journal for Computer Game Culture, 9(1), 33–45. https://doi.org/10.7557/23.6164
van Ooijen, E. (2018). The Killability of Fish in The Sims 3: Pets and Stardew Valley. The Computer Games Journal, 1–8. https://doi.org/10.1007/s40869-018-0055-x
van Ooijen, E. (2017). Strange meat. Ny tid, (6–7), 80–85. http://urn.kb.se/resolve?urn=urn:nbn:se:kau:diva-57085
van Ooijen, E. (2015). Att äta digitala djur : Spel, våld och ideologi. Tidskrift för litteraturvetenskap, (4), 29–41. http://urn.kb.se/resolve?urn=urn:nbn:se:kau:diva-40736
van Ooijen, E. (2015). Giving Life Harmoniously : Animal Inversion in Cattle Decapitation. Helvete: A Journal of Black Metal Theory, 2, 73–92. http://urn.kb.se/resolve?urn=urn:nbn:se:kau:diva-40734
van Ooijen, E. (2011). Cinematic shots and cuts : on the ethics and semiotics of real violence in film fiction. Journal of Aesthetics and Culture, 3, 1–15. https://doi.org/10.3402/jac.v3i0.6280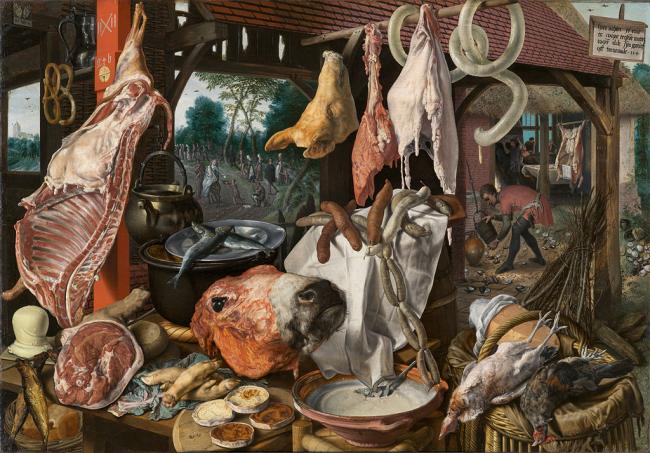 Photo credit
Pieter Aertsen, Public domain, via Wikimedia Commons