Classical music
Classical music is one of the three generic areas at Ingesund School of Music (MHI) and is included in most of our courses and programmes.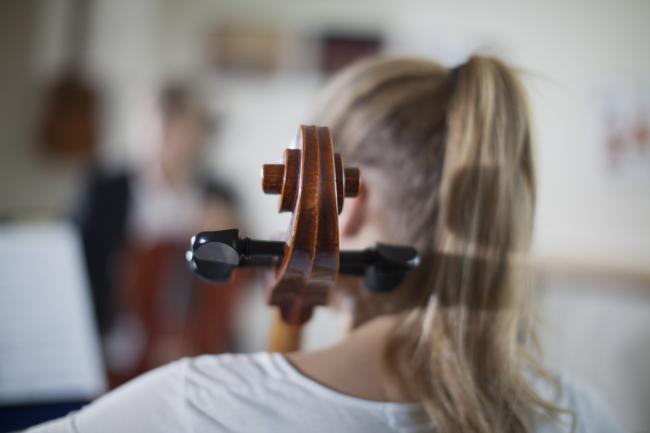 Classical music students have individual lessons with their main instrument teachers. The number of hours depends a bit on the course/programme followed. Students taking the Music (60 ECTS credits) programme meet their main instrument teachers for 10 hours of lessons per semester, for example, while first-year students on the Music Teacher programme meet their teachers for around 9 hours per semester. Students on the Music Teacher programme take main instrument lessons each of the 10 semesters of the programme.
Ensemble
Students from different years, course and programmes work and play together in different ensembles, such as the guitar orchestra, chamber choir, string orchestra, symphonic wind orchestra, symphony orchestra as well as different types of smaller chamber orchestras. Ensemble lessons can either be given a few hours each week or as concentrated projects.
Our teachers are active, renowned musicians, and they are also committed educators who are passionate about teaching. Each year, MHI is visited by a number of national and international musicians who give masterclasses and concerts. Such meetings are a source of inspiration and give valuable opportunities for development and knowledge exchange.
During the third year of the Music Teacher Programme, students have the opportunity to study abroad. We also receive exchange students who want to hone their skills with our teachers and be part of the creative artistic environment offered by Ingesund School of Music.
Classical music teachers
Teresia Alm, oboe
Mats Backlund, choir
Lars-Inge Bjärlestam, cello
Peter Boman, voice and ensemble
Jon Dahlkvist, viola and chamber music
Sébastien Dubé, double bass
Trude Eick, French horn
Ann Elkjär, flute and chamber music
Magnus Ericsson, violin, chamber music and string orchestra
Martin Eriksson, saxophone and chamber music
Georg Gulyas, guitar and guitar orchestra
Ane Gustavsson, viola
Johannes Gustavsson, symphony
Lars Hellgren, tuba
Robert Henriksson, double bass
Peter Herresthal, violin
Ingegerd Ia Hultén, voice
Mikael Kanarva, piano, accompaniment and interpretation
Agneta Kazen, recorder and chamber music
Rolf Landberg, percussion and percussion ensemble
Mira Hsin-Bei Lee, piano and accompaniment
Eric Lindblom, trombone, euphonium and chamber music
Mikael Lindström, bassoon
Julia Mustonen-Dahlkvist, piano and interpretation
Elina Nilsson, piano and accompaniment
Ylva Nilsson, cello
Berit Palmquist, trumpet, brass ensemble and symphonic wind orchestra
Kjell Erik Paulsrud, trumpet and ensemble
Lars Sandin, trombone
Åke Skommar, organ
Per-Owe Solvelius, guitar and guitar orchestra
Carl Unander-Scharin, voice and chamber music
Annmari Wangin, French horn
Lars-Gunnar Wåhlstedt, clarinet and chamber music